ECHO Clinical Consultation Program:
Latine Mental Health
Increasing Evidence-Based Practice Capacity in Latine Mental Health Care
Join us on Fridays from 12-1:30PM
To register for our upcoming sessions and to stay in the loop of all our ECHO programming, join the La Mesita Network!
Too often, clinicians in NC serving the Latine community find themselves isolated and limited in their access to the latest knowledge and best practices.
As part of El Futuro's wider Latine Mental Health Provider Network, La Mesita, our Project ECHO initiative will help mental health and primary care providers across the state receive expert case consultations and access to the latest research through the power of video consultation.
Moving knowledge, not patients:
Through El Futuro's ECHO initiative, providers will gain capacity to deliver best practices in mental healthcare for Latines. This allows clients across the state to receive the best care from their local providers. 

Reduced provider stress/isolation + increased knowledge/capacity = improved client health outcomes
What does an El Futuro TeleECHO session look like?
Content based on a series model where we focus on a diagnosis or social issue in Latine mental health
Sessions are 40% didactic, 60% collaborative case consultation
Topics such as assessment, evidence-based practices in adult and adolescent treatment and psychopharmocology are discussed
An open, non-judgmental learning environment!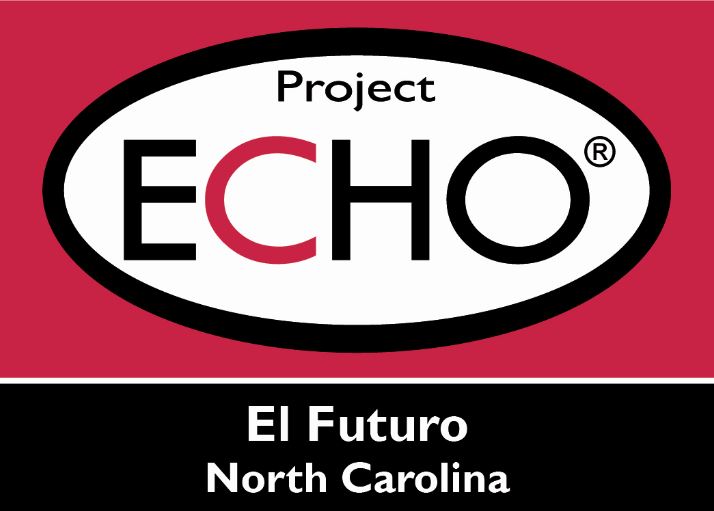 Register for Our Next ECHO Series!
Our Latine Mental Health ECHO Teleconsultation Series involves brief didactics on best practices followed by collaborative case consultations with providers from across the state. Each series centers on a specific topic impacting mental health that providers may encounter when working with the Latinx community. This series is titled "'The Stories We Carry: Understanding Narrative Influences on Substance Use in Latine Communities."
This series centers on issues of substance use in the Latine community. The focus of each session will be around understanding common cultural narratives that impact both the problematic use of substances and possible paths for supporting individuals and families in making positive changes. The series will wrap up with a session to facilitate reflections of the interaction between cultural narratives and the lived experiences of each provider.
Ready to Register?
Use the purple buttons below to register for this ECHO series. 
For participants that register with Wake AHEC, this webinar will provide:
*1.5 Contact Hours (or 0.15 CEUs): Contact Hours include CEs for Social Workers, mental health clinicians, nurses, other healthcare providers, and several other disciplines who utilize contact hours.
CEUs are calculated by tenths. Example: 0.1 CEU = 1 Contact Hour of participation.
*1.5 Contact Hours (category A) CE for NC Psychologists: The Wake AHEC is recognized by the North Carolina Psychology Board as an approved provider of (Category A) Continuing Education for North Carolina Licensed Psychologists. No partial credit will be given.
*NBCC credit: this program is approved for 1.5 NBCC Hours
Wake AHEC, ACEP No. 6477 and El Futuro, ACEP No. 6947 are cosponsors of this program. This cosponsorship has been approved by NBCC.  Wake AHEC is an NBCC Approved Continuing Education Provider, ACEP No. 6477. The ACEP solely is responsible for this program, including the awarding of NBCC credit.
Participants should confirm continuing education credit information for licensure requirements with their state licensing board(s). If you need any additional information about this webinar for your licensure, please reach out to us at lamesita@elfuturo-nc.org.
Upcoming El Futuro TeleECHO sessions
June

2023

Sun
Mon
Tue
Wed
Thu
Fri
Sat
Accommodations:
Please reach out to lamesita@elfuturo-nc.org to let us know if you need accommodations at least 2 weeks prior to a session. We will work to the best of our abilities to fulfill all accommodation requests.
Behaviors and/or Comments of Concern Policy
We have carefully modeled the environment around our learning activities to be one characterized by mutual collegiality, kindness, and a commitment to constant learning. This environment allows for providers of all disciplines, regardless of their level of experience, to feel comfortable in taking part in and benefiting from our programming. It is our hope that all La Mesita members will join us in preserving this environment we have cultivated over the years through your participation across our programming.
Please reach out to us with any concerns or with questions regarding our policies at lamesita@elfuturo-nc.org.
Thank you to Wake AHEC for providing continuing education credits for our ECHO consultations!