As you've likely heard, El Futuro is excited to be moving to a 40 percent larger space in the Lakewood neighborhood in just under two weeks! In the wake of this excitement, we hosted a community work day on Saturday, April 28, dedicated to beautifying the green space outside our new clinic.
This work day was the beginning of our initiative to make the green space more vibrant and welcoming to our clients, made possible in part by a grant awarded from the During Giving Project, which you can read more about here. We will spearhead a continued effort to turn the area into a therapeutic garden for clients, staff, Lakewood community members, and our neighbors in the Lakewood Reuse Arts District. If you haven't heard of this initiative by The Scrap Exchange, check it out! We're super excited to integrate with this emerging effort, and to celebrate the rich cultural history of the neighborhood and our Latino neighbors there.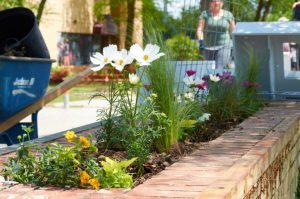 Almost 50  El Futuro friends and partners came to help on the Saturday of the green space kickoff work day, including staff, donors, board members, and new neighbors. We are grateful to Katherine Gill from Tributary Land Design + Buildand to Jeff Masten and Heidi Hannapel from LANDMATTERS for their expert design guidance and facilitation of the day. And, of course, we are grateful to our new neighbors, Leon and Arelli from Cocoa Cinnamon Lakewood for bringing churros and welcoming us to the area!
Spending a day beautifying our new space with our neighbors and friends truly elevates our excitement to transition to our new location. It is so vital in the treatment of mental illness to create an environment that lends itself to healing and creates opportunities to be a part of a community.
For many people, mental illness and the stigma associated with it creates a roadblock that prevents them from feeling valuable and like they are part of a community. Our new El Futuro clinic and therapeutic outdoor space gives us a greater opportunity to help more people feel like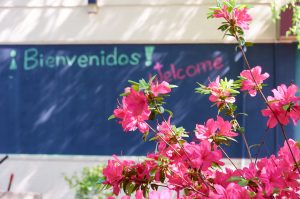 they belong, supporting familias to live out their dreams, like our mission says. We are so grateful to the many generous partners who are helping to make this healing space possible.