El Futuro is a community-based nonprofit organization that seeks to transform Latino-serving mental health care in North Carolina and beyond. We provide bilingual and culturally-responsive mental health services including therapy, psychiatry, substance use treatment, and case management in a welcoming environment of healing and hope. 
Founded as a volunteer project by Dr. Luke Smith in 2001 to address the unmet need for bilingual mental health services for North Carolina's growing Latino immigrant community, we were incorporated as a nonprofit in 2004. Our mission is to nurture stronger familias to live out their dreams.
As North Carolina's Latino community has grown, so have we. El Futuro is now North Carolina's leading provider of, and trusted resource for, bilingual and culturally-responsive mental health services. We serve more than 2,000 Latino youth and adults every year through outpatient clinics in Durham and Siler City, and reach more than 30 counties with our telehealth services. Our award-winning team includes more than 25 psychiatrists, therapists, social workers, and case managers, supported by program and administrative staff – all of whom hold El Futuro's mission close to their heart.
We meet clients where they are with a warm, outstretched hand. Instead of asking "what is your chief complaint?" we ask "what are your dreams?", engaging those coming to us with a lens of affirmation and transformation. 
"Making mental health care accessible for underserved Latino families improves their quality of life and helps people get back to their dreams for the future that brought them to our community in the first place. It creates a better, healthier community for us all."
-Dr. Luke Smith, Psychiatrist and Executive Director of El Futuro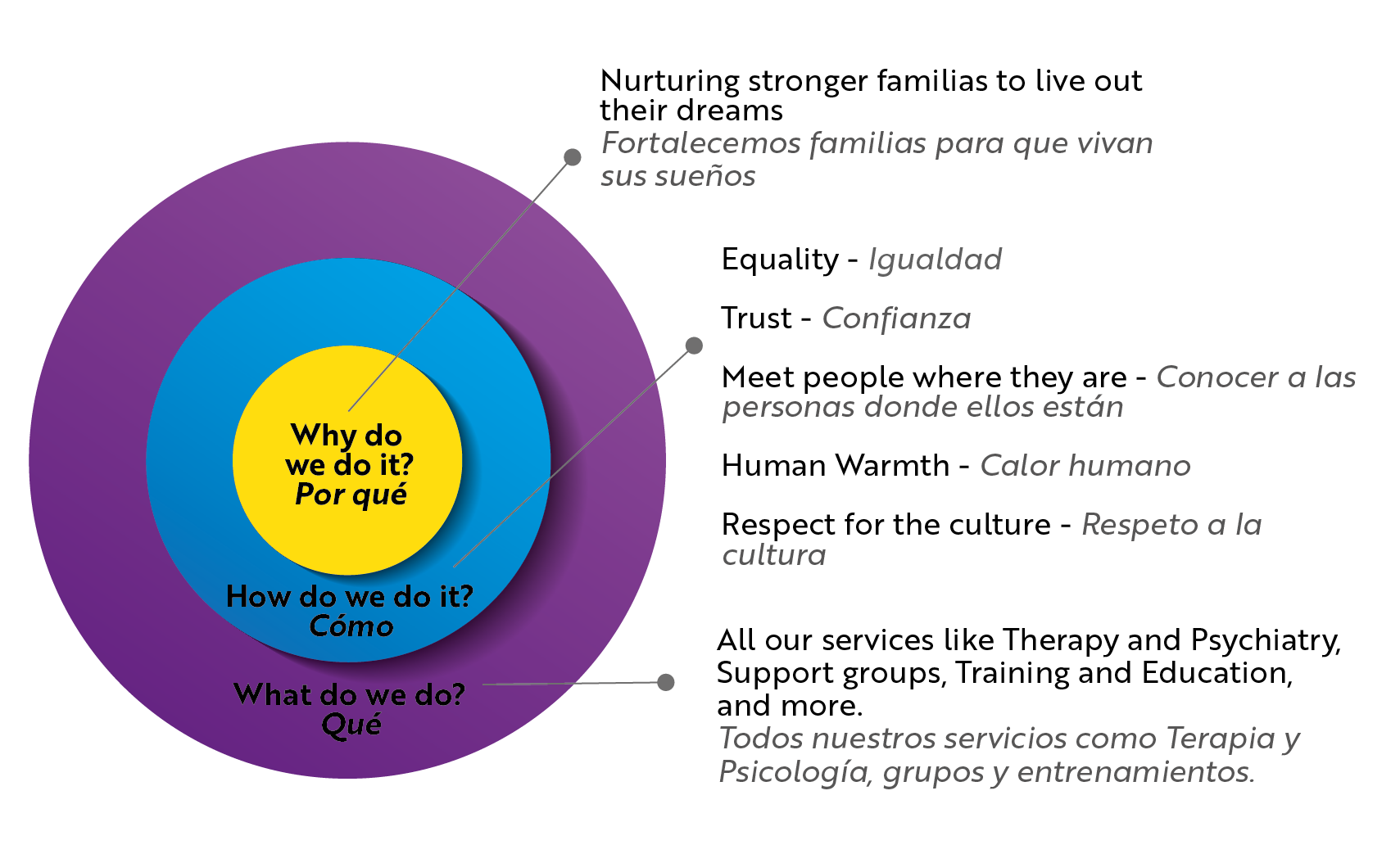 In pursuit of our mission, we also:
Build statewide capacity to provide culturally-responsive care through the La Mesita Latinx Mental Health Professional Network, whose 1,300+ members serve every county in North Carolina and beyond.

Advocate for system-wide change to better serve North Carolina's growing Latino community, which now represents more than 10% of our population.

P

articipate in research and evaluation when it helps the families we serve.

Reach beyond our clinic walls and engage more deeply with our community, neighbors, and partner organizations – increasing social connection, building cultural resilience and pride, and strengthening protective factors that support families and individuals. 

Create vibrant, therapeutic spaces that nurture, represent and celebrate individual and community identities in support of community mental health. 
We recognize and respect the rich cultural traditions, strong family connections, and community cultural wealth that our Latino neighbors bring to our state.
El Futuro is an AHEC Center for Excellence, and we have been honored to receive numerous awards throughout the years. Our most meaningful achievements, however, are when families grow stronger and get back to their dreams for the future that brought them to our community in the first place. We're honored to know that our number one source of referrals is from friends and family of clients, reflecting the confianza (trust) we've built with Latino families over the years.
Our vision is that all Latino families who seek mental health support can access appropriate services and function at their most vibrant at home, work, and school, strengthening our entire community.
Learn more about our staff and board here.