Staff
El Futuro has recruited an expert team of dedicated clinicians. El Futuro's bilingual staff provides culturally appropriate care in a professional environment, where clients are treated with dignity and respect.
Mariana Abraham
Clinic Manager, 919-688-7101 ext 649
Mariana came to the US from Costa Rica ten years ago. This makes her the only Costa Rican on our staff. When she heard of the opportunity to work at El Futuro, she jumped at the chance, thinking "This is what I was thinking ever since coming to the US but I didn't know how to do it!" Mariana speaks with gentleness and kindness as she welcomes people who come to El Futuro. In her spare time away from El Futuro she enjoys drawing, photography and walking with her family in nature.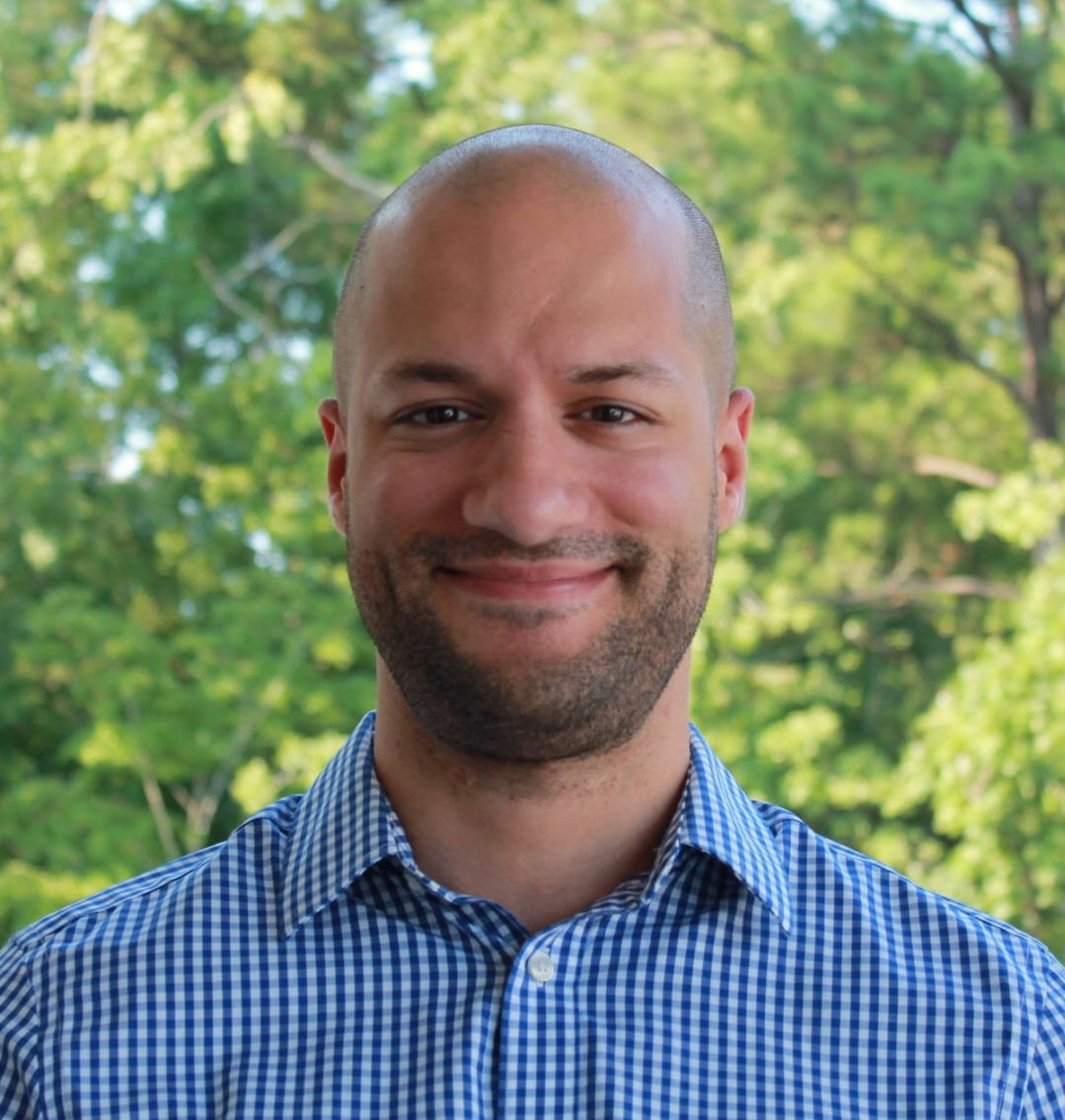 Robert Alcantara
TeleHealth Clinical Coordinator, (919) 688-7101 ext 679
Robert was born and raised in Queens, NY. He served in the U.S. Army from 2006 to 2012. During his enlistment, he deployed to Afghanistan in 2007 and 2009. He earned a Bachelor's in Criminal Justice from Penn State in 2014.
Robert has experience working with nonprofits and he hopes to use his extensive experience in technology and logistics to help grow the TeleHealth program.
In his free time, Robert enjoys rock climbing, kayaking, reading, watching movies, and spending time with his wife.
Kerry Brock, MPA
Director of Advancement and Strategy, (919) 688-7101 ext 632
Kerry was born and raised in a small town in East Tennessee, where she learned to appreciate the free feeling of running through pastures and wading in creeks. She developed a passion for working with underserved populations while in high school, which ultimately led her to earn a BA in Sociology from the University of Tennessee – Knoxville, and then a Master of Public Affairs from Indiana University – Bloomington. Over the last 15 years, she has had the opportunity to support the fundraising efforts of a variety of nonprofits serving diverse populations and needs, from Native American education in South Dakota to community health clinics in Chicago, and has been extremely fortunate to work with phenomenal colleagues at every step along the way. She is excited to continue this tradition with El Futuro, with a keen interest in supporting the mental health needs of our community. When Kerry isn't at El Futuro, she can be found playing with her kids, watching The Great British Baking Show or UK Basketball, struggling through CrossFit, or reading.
Francisco Contreras, LCSWA, CADC
Therapist, (919) 688-7101 ext 680
Francisco had the privilege to grew up in an altruistic household in The Dominican Republic. His father was a community leader and always exhibited genuine concern for the welfare of others. As the mayor of their hometown, during his political career, his father often put the needs of others and that of society first. He was very influential for Francisco and his siblings, and his legacy of promoting social welfare became a moral goal for his family. It is within this context that Francisco feels called to be compassionate and loving with people. Over the years, he has been involved in many social justice issues that have confirmed his interest in social work. Much of his professional experience has included responsibilities such as case management and community health education, centered upon improving health outcomes for vulnerable populations. While living in New York, Francisco finished the social work program at New York University and worked as a clinical counselor in the field of substance use. It was a privilege to start his career in a city like New York, but he permanently relocated to Durham in March with his wife and daughter to be closer to family. One of the key issues facing the Latino community is the lack of culturally responsive mental health services, and he is very excited to participate in El Futuro's effort to help fulfill this need.
In his free time, Francisco enjoys woodworking projects, playing pool, cooking ethnic food, and dancing salsa.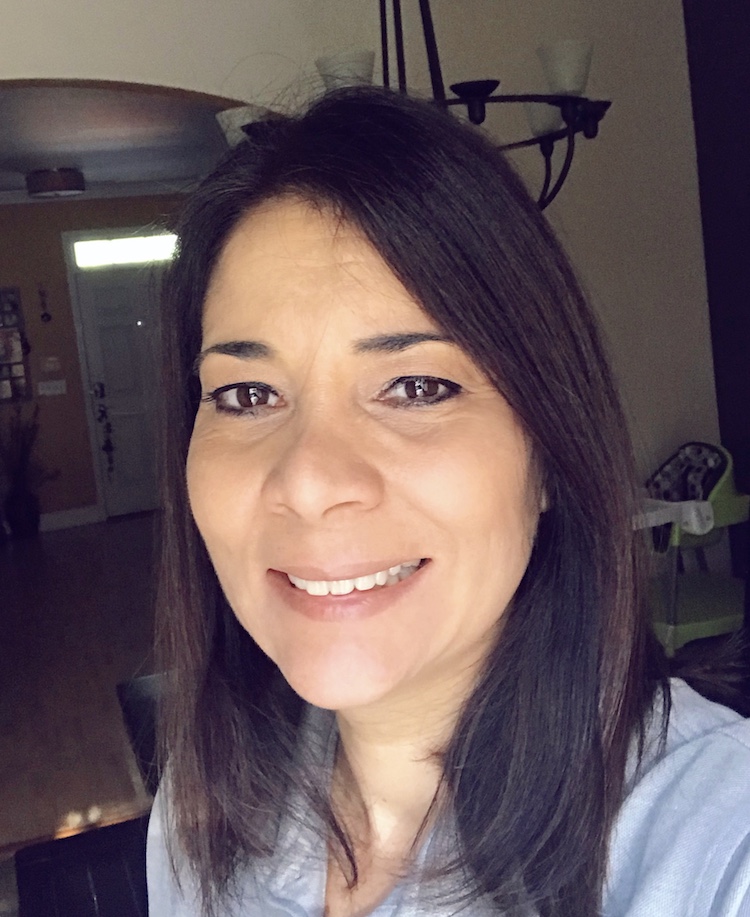 Mary Dominguez
Authorization Specialist, (919) 688-7101 ext 608
Mary is from from Caracas, Venezuela's capital. After she got her degree in International Relations from Universidad Central de Venezuela, she worked in the Department of International Affairs of Venezuela as Director's Assistant in "Instituto de Altos estudios Diplomáticos Pedro Gual." Here in the USA, she was a GED instructor in Spanish for 7 years at Durham Tech and also worked as a bilingual assistant manager in residential business for almost 7 years in the RTP area. Mary's love for helping the Hispanic community brought her to El Futuro. Her cheerful personality and work ethic make her an asset to our organization. In her free time she enjoys zumba, running and spending time with friends.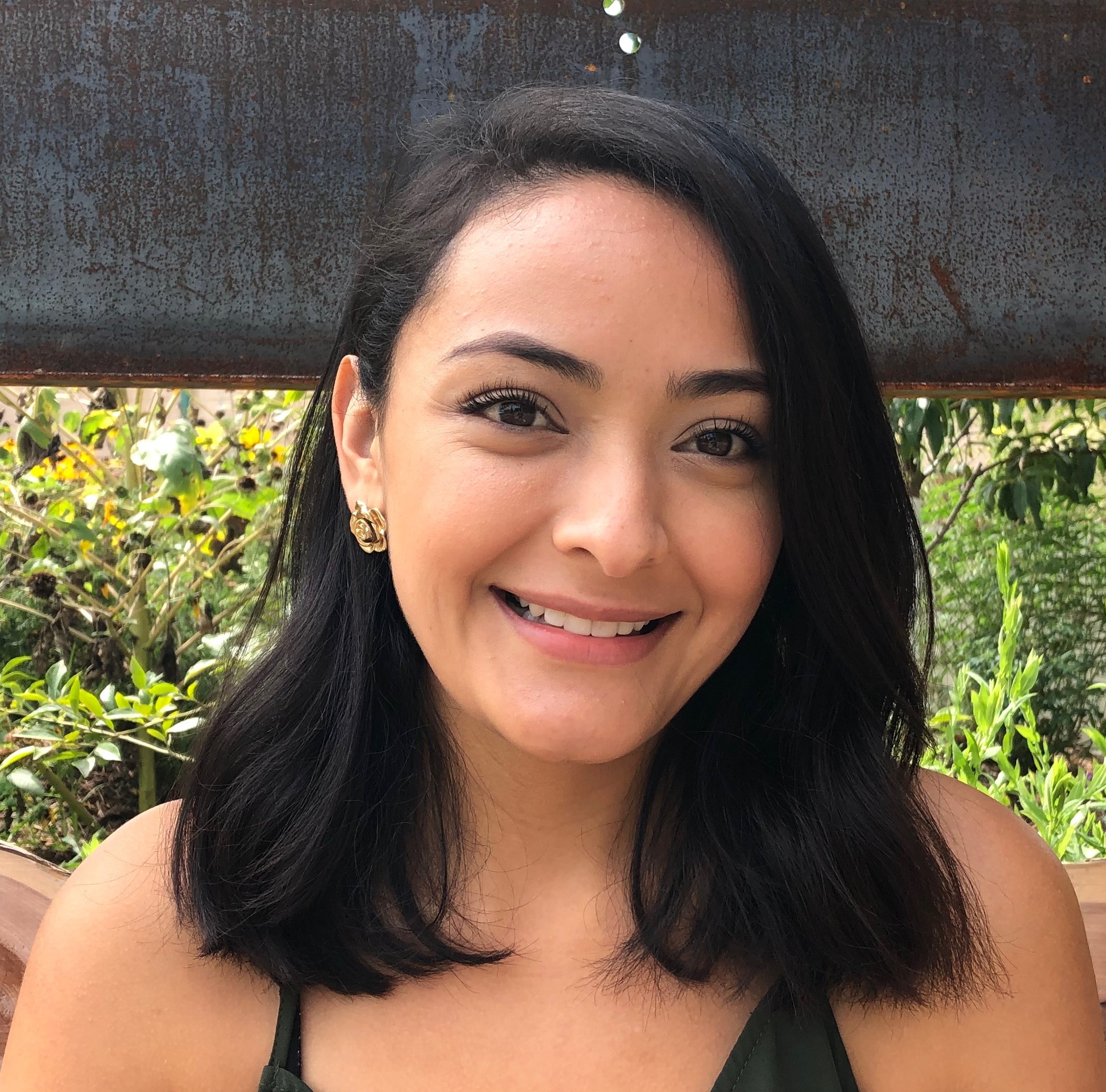 Yessica Elles
Clinical Assistant, (919) 688-7101 ext 700
Yessica Elles is from Bogotá, Colombia and joins us as a clinical assistant at our Siler City and Durham offices. She studied Educational Psychology at Universidad Pedagógica Nacional in Bogotá and is thinking about a career as a mental health practitioner. In Colombia, she was going to pursue a Masters in Neuropsychology, but now is thinking about going into the field of Social Work.
She first heard about El Futuro from a family friend and is excited to be able to work somewhere that shares her mission and professional goals where she can keep learning!
In her free time, Yessica likes to watch movies, spend time with friends and her husband, and hangout at the lake paddleboarding and swimming!
Jessica Garcia, MSW, LCSW
Therapist, (919)688-7101 ext 653
Jessica was born in Querétaro, México and relocated to Raleigh with her family when she was nine months old. She is a native Spanish speaker, speaking only Spanish in the home until she began school. She saw first-hand how hard it was for her family to navigate social service systems after immigrating from México, and was the member of her family who helped translate for them. It was because of this that she realized there was a great need for bilingual people in the social services. Jessica received her Bachelor's in psychology with minors in business and Spanish from Meredith College and her Masters in Social Work from UNC-CH. She chose social work because of the social justice and empowerment component that is sometimes missing in psychology practice. She wanted to be able to use her bilingualism to assist the Latino community in a way that also empowered them. She just finished her internship at Carolina Outreach and heard about El Futuro from a friend who completed their internship here last year. In her free time, Jessica enjoys strength training exercise, playing with her chihuahuas, Princess and Ava, and listening to music.
Jenna Horgan, MSW, LCSW, MT-BC
Therapist, 919-688-7101 ext 633
Jenna brings her creativity and compassion to her work as a therapist at El Futuro. Jenna is a board-certified music therapist (MT-BC) with her bachelor's in Music Therapy from Appalachian State University and Masters of Social Work from North Carolina State University. She considers herself a lifelong learner, and finds that she learns something from every client she meets. She takes a holistic approach with clients, pulling from expressive arts interventions, somatic therapies and cognitive therapy techniques. Jenna is one of the only certified Trauma Center Trauma Sensitive Yoga-Faciliators (TCTSY-F) in North Carolina. She is especially passionate about group therapy and helps coordinate the group therapy program at El Futuro. Originally from Durham, she learned Spanish while volunteering at Centro Arte para la Paz in El Salvador where she taught English, yoga and music. In her free time, Jenna can be found exploring local hiking trails, doing yoga, playing her guitalele or writing spirited songs.
Marita Malm Morgan, PhD, LCMHCA
Therapist, (919) 688-7101 ext 610
Marita moved to the US eleven years ago from Argentina where she completed her Psychology studies (MA degree) and practiced psychotherapy for 10 years. In her practice there she worked in public hospitals and private practice helping mostly adults and seniors. Her training is in Cognitive Behavioral Therapy, in an Integrated Model of Psychotherapy and also in Neuropsychology. As soon as she moved to the US, she worked with us as a volunteer for a year and then she continued helping off and on over the last several years volunteering to help with special cases. Additionally she finished her PhD in Psychology and became licensed in North Carolina! She loves working at El Futuro and helping the Spanish-speaking population living here in North Carolina.
Juan Prandoni, PhD, LPA, HSP-PA
Training Director, (919) 688-7101 ext 658
Juan Prandoni was born in Argentina and moved to Winston-Salem when he was 10. He did undergraduate studies at UNC-Chapel Hill and then entered UNC-Greensboro's Clinical Psychology PhD program after taking some time off to backpack through Patagonia and live in NYC. He has a strong ethnic identity as an Argentine, so he has been militant about maintaining his Spanish language, using it during his clinical work.
When Juan was 18, he did an internship in the child and adolescent inpatient unit at Wake Forest University Baptist Medical Center, which pushed him toward wanting to work with more severe mental pathologies. This experience also made him want to shoot for a PhD. Before coming to El Futuro, Juan completed his predoctoral internship at Trinitas Regional Medical Center in Elizabeth NJ. In his free time, Juan enjoys playing and watching soccer — he's a huge Liverpool fan — backpacking, and hanging out with his cats, Francis and Clara.
Megan Robertson
La Mesita Project Manager, 919-688-7101 ext 673
Megan Robertson grew up on the eastern shore of Maryland and lived in Charlottesville and Milwaukee before moving to Durham in 2011. Prior to her time in Durham, she worked as an IT Consultant for MillerCoors Brewery where she helped them install a new pricing software. Her love of details, organization, and coordination provided a good transition into the project manager role for La Mesita – our new and growing North Carolina Latino Mental Health Provider Network. She also spent a year as a travel coordinator, where she further developed her love and appreciation for exploring cultures around the world! She has been practicing her high school Spanish skills with her young daughters, both of whom have now mastered the phrase 'Mas leche por favor'! When not drinking milk with her daughters, she loves to hike, garden, and enjoy good food with friends and family.
Victoria Romero, MA, M.Ed., LCMHCA
Manager for Case Management Services & Outpatient Therapist, 919-688-7101 ext 647
Victoria Romero is the Case Management Lead and an outpatient therapist at El Futuro. She earned a BA from George Mason University, an MA from Union University, and an M.Ed. from North Carolina State University. Prior to joining El Futuro in October 2017, she was an elementary school counselor in the Wake County Public School System. She then decided to focus her career on providing direct services to the Latino population. Because she is passionate about promoting mental health by providing holistic care for Latino individuals and families, she co-created an in-house case management program, Conexiones, for El Futuro clients. As the Case Management Lead, she represents El Futuro at community and partner agency meetings in Durham, Chatham, and Orange counties. As a clinician, her areas of interest and experience are in identity, relationships, anxiety, depression, coping skills, individual growth, suicidal ideation, parenting best practices, and mindfulness. Victoria takes pride in being the only Guatemalan representative at El Futuro. When she is not working at EF, she enjoys practicing yoga, watching a good Netflix series, and spending time with her husband and two adult daughters.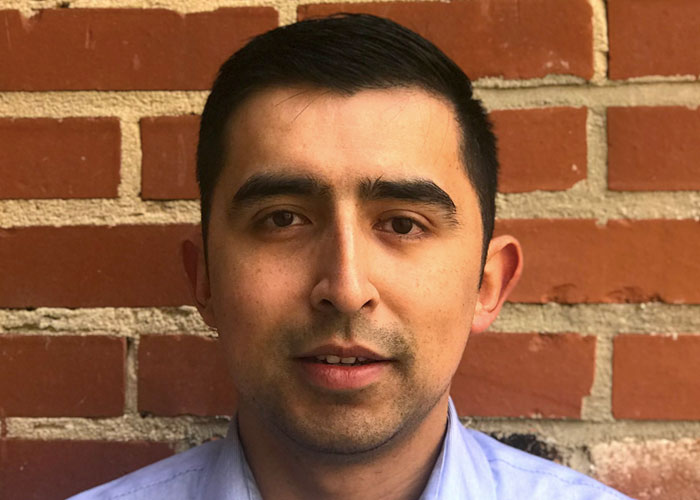 Ismael Santillano, MA Ed.S, LCMHCA
Case Manager Lead, (919) 688-7101 ext 650
Ismael was born in Los Angeles, California but moved to Chapel Hill, NC when he was 5 years old. Both of his parents were born in Mexico and they raised their children to be fluent in Spanish. Ismael studied Psychology as an undergraduate at UNC-Greensboro and then got a Master's degree in Mental Health Counseling from Gardner-Webb University. It has always been a goal of his to help the Latino community. It is an underserved population and he feels that he can make a difference in people's lives. Growing up Ismael didn't see a lot of Hispanic professionals who could serve as role models but he wants be one to the next generation. When he's not at El Futuro Ismael loves to spend time with his daughter and wife, play soccer, watch sports, and occasionally play computer games.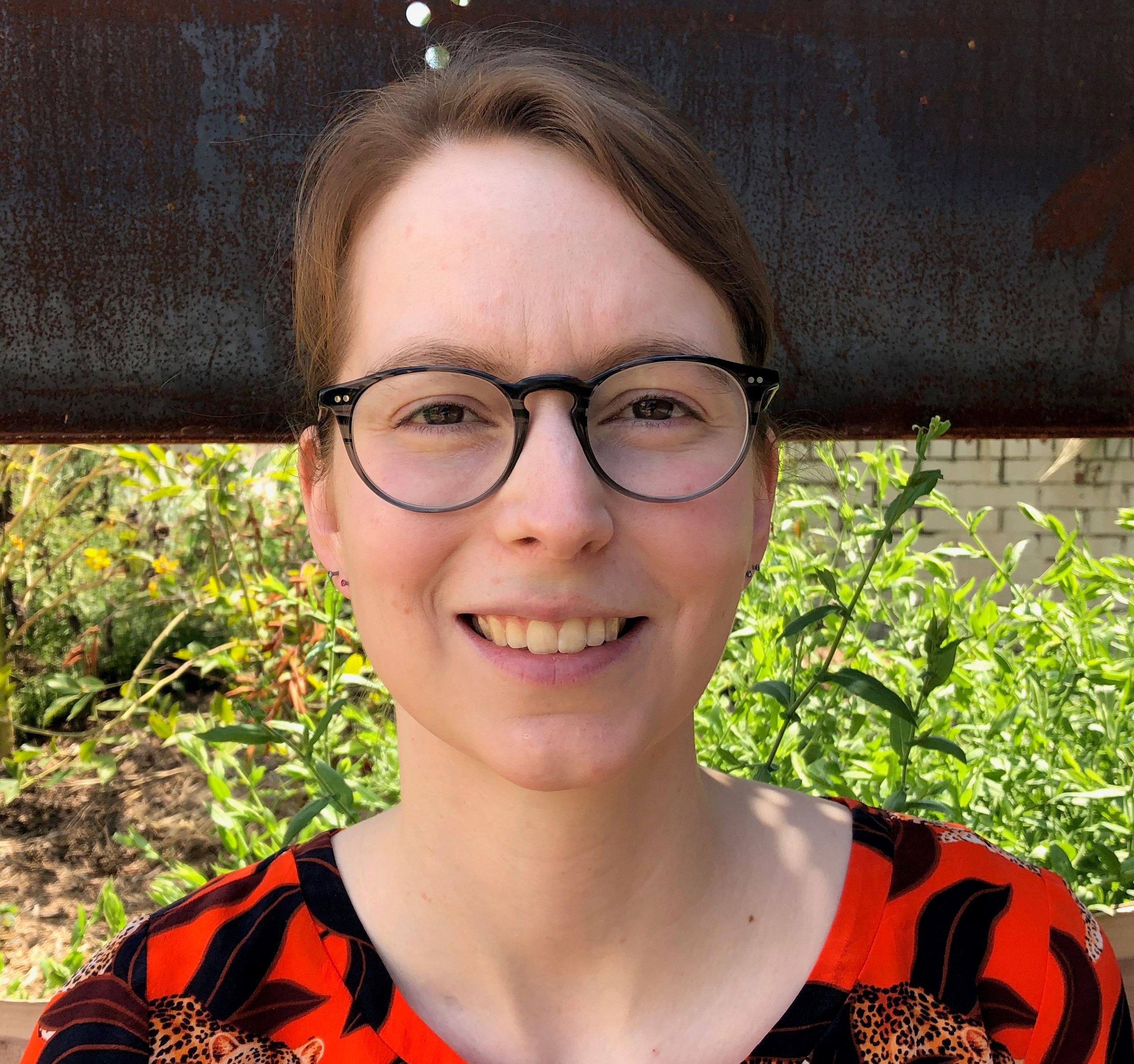 Katy Sims, MD
Psychiatrist, 919-688-7101
Katy grew up in Carthage, NC — a tobacco farming town South of the Triangle. She attended Davidson College for her undergraduate degree and is now a fourth year Psychiatry resident at UNC School of Medicine. This is Katy's second time at El Futuro — she also did a residency here during the second year of her program!
Katy's dedication to psychiatry comes out of her realization that whole-body health often has to start with sound behavioral health — you can't work on someone's diabetes if they're too depressed to make lifestyle changes. She especially likes working with Spanish-speaking populations because of how much being able to deliver treatments in their native language means to these clients. 
In her free time, she fosters border collies with her husband, knits, sews, weaves, and crochets, and spends a lot of time outdoors — also with the dogs!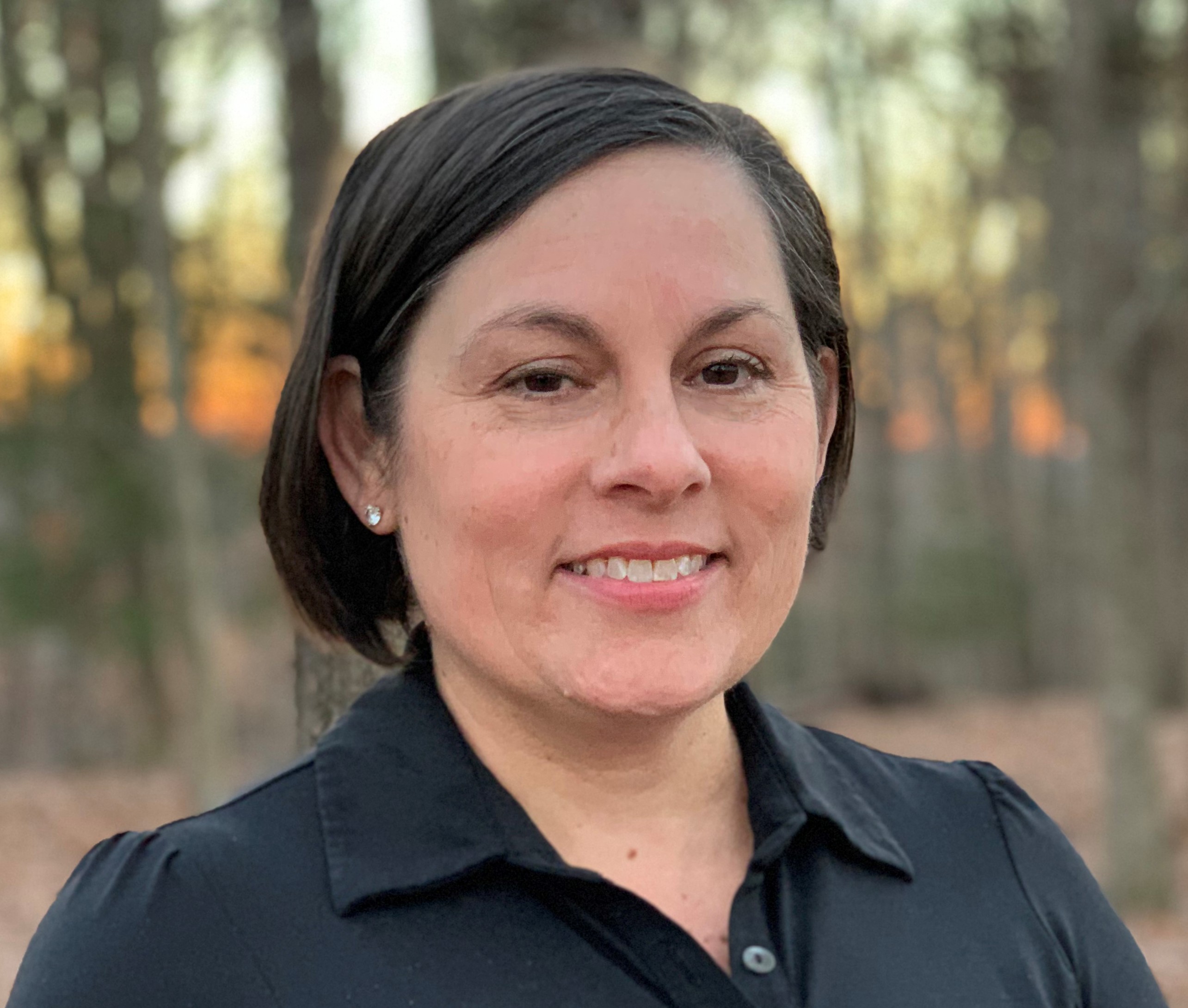 Leigh Sweet, PHR
Human Resources Generalist, (919) 688-7101 ext 678
Leigh Sweet is joining us as our Human Resources Generalist. Leigh grew up in Richmond, Virginia, but has now spent over 25 years in the Triangle! She's excited to bring her experience to El Futuro and to show the value of what having an HR professional can create in a workplace. Leigh began working in HR when she worked at Planned Parenthood for 18 years! It was never her path but she found herself doing the work and loving it. The opportunity to work at El Futuro merges the two things that matter most to her: making healthy space for employees and working for a mission driven organization. 
Leigh has three children and sometimes their hobbies — gymnastics, volleyball, ballet, and horseback riding become her hobbies. For her, her main hobby is staying connected to her friends.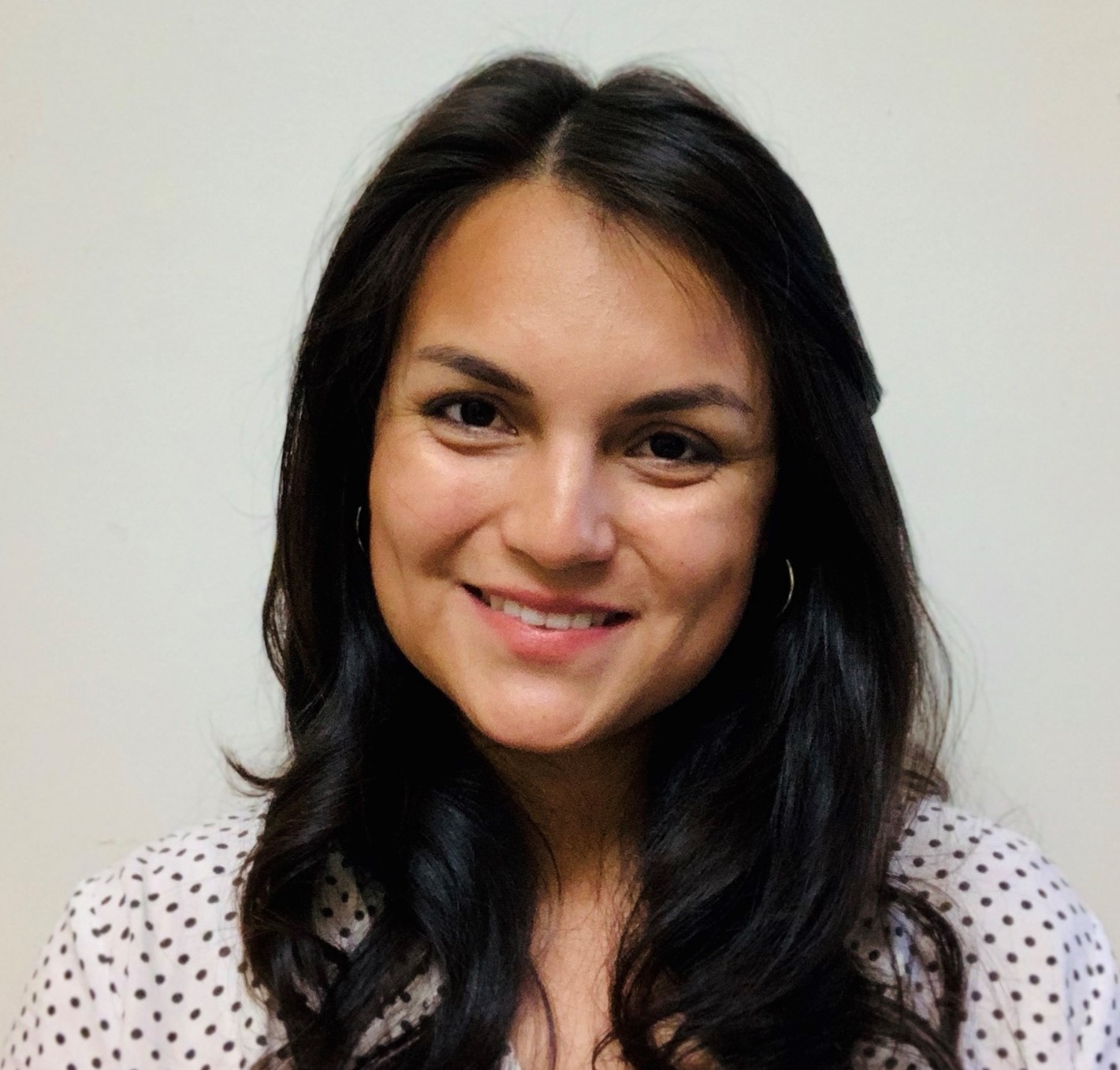 Jandira Zaki, MSW, LCSWA
Therapist, (919) 688-7101 ext 664
Jandira was born in Peru and moved to NC when she was five years old. She grew up speaking Spanish at home. She went to UNC-Chapel Hill for both her undergraduate degree in Psychology and her graduate degree in Social Work. She realized she wanted to work in a mental health field when her friends kept coming to her for advice and she would work to get them to think from different perspectives. As she learned more about the field of social work she gravitated there! Originally, Jandira wanted to work as a co-located mental health clinician within schools since she experienced first-hand the challenges of bi-culturalismo as a first-generation individual. Now, Jandira has the goal of helping Latino teens, children, and their parents in a clinical setting to be able to work with whole family units. In her free time, Jandira enjoys hanging out with her puppy, dancing, being outside in nice weather, and trying new foods — her love of different foods comes from her Peruvian and Palestinian heritage!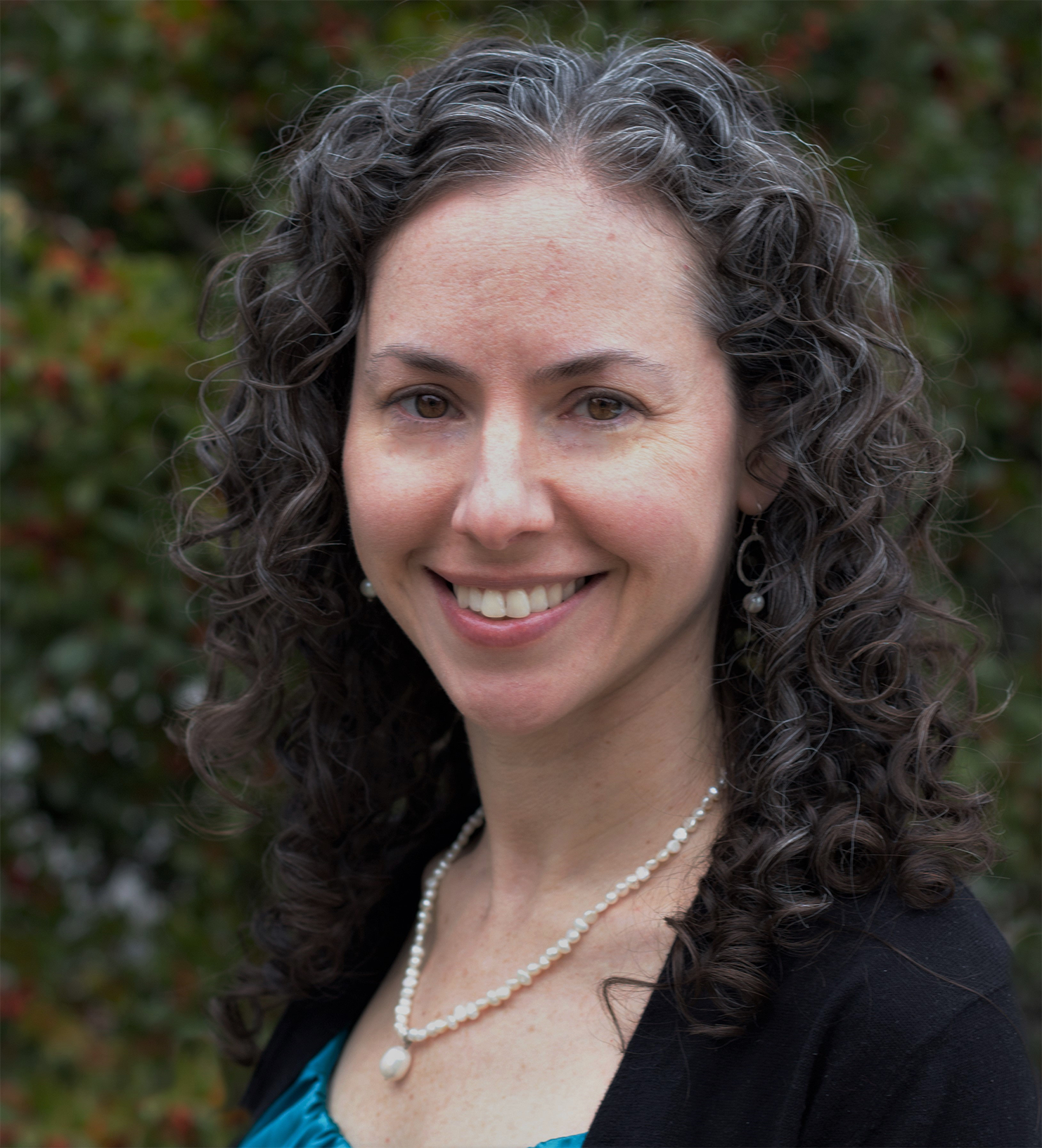 Sabrina Aguilar-Simon, MS
Clinical Project Manager & Case Manager
Sabrina grew up in Ohio and lived in Spain during college and in Mexico after college. She received her Bachelors from the College of Wooster and her Masters from UNC-Chapel Hill. Sabrina worked for over a decade serving the Latinx community in Orange County, NC, managing and implementing a children's resource coordination program. After seeing a great need for bilingual speech-language services in the area, she obtained a Masters in speech-language pathology and spent close to a half-decade working as a bilingual clinical speech-language therapist. She came to work at El Futuro to return to her passion for grassroots non-profit work with the local Latinx community and to support the organization's outstanding mission. Sabrina enjoys crossword puzzles, tandem-biking, nature hikes, and meditation.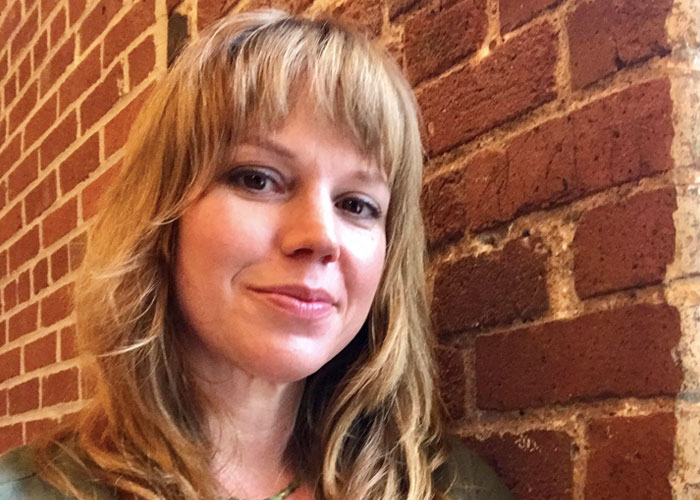 Christa Atkinson, MSW, LCSW, E-RYT
Therapist, (919) 688-7101 ext 628
Christa has lived many places including Minnesota, Colorado, Manhattan, Costa Rica and Chile but has now lived in North Carolina the longest and calls it home. Christa has been a clinician for over 10 years and brings her awareness as a yoga instructor to her work with clients. She specializes in working with young children, adolescents and families with trauma, abuse, anxiety and depression. She has worked with court-involved youth in juvenile justice, traumatized and behaviorally challenged adolescents in a residential treatment center, and as the lead Clinical Social Worker in a Robert Wood Johnson funded program targeting mental health for Latinos in Durham's elementary schools. She received her BA in Durango, Colorado and her Master's degree in Social Work from UNC Chapel Hill. At El Futuro Christa has lead parenting classes, groups for teens and currently leads a weekly MBSR class in Spanish. When not working, you might see Christa practicing or teaching yoga, dancing, or out and about with her kids…and sometimes all of these things at the same time.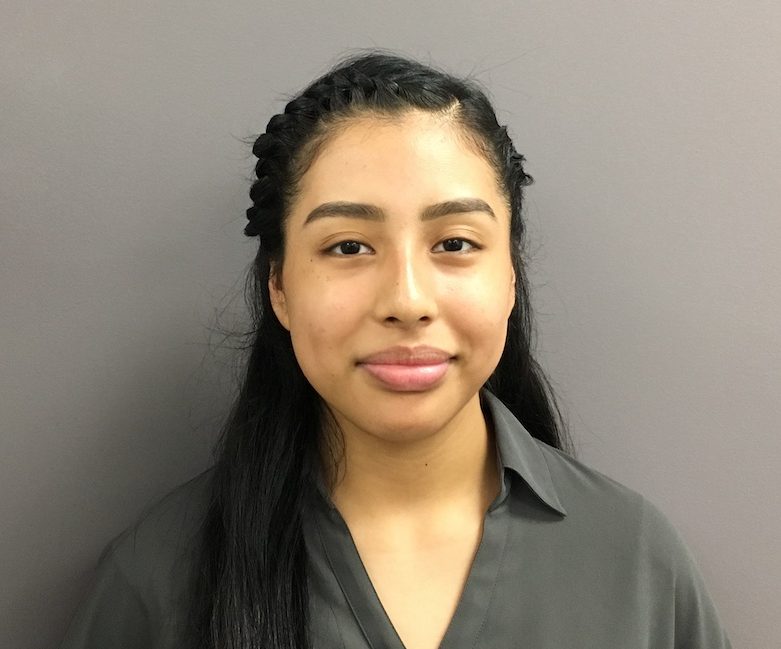 Xochitl Cahua
Executive assistant, (919) 688-7101
Xochitl joined us two years ago as a Partners for Youth Opportunity intern, where she first heard about El Futuro. Beginning as a volunteer, Xochitl's role at El Futuro has grown to Executive Assistant. She was born and raised in Durham to Mexican parents and currently attends Durham Technical Community College for her associate degree in Science. Xochitl is interested in the medical field and is considering a career in audiology or — like our Executive Director, Luke — psychiatry. When not studying (which seems like her biggest hobby lately!) Xochitl loves spending lots of time with her family and enjoying art and food.
Gisele Correia
Access Coordinator, (919) 688-7101 ext 605
Gisele grew up in Curitiba, Brazil and has always been involved with the arts. Before coming to the U.S. she lived in Ontario, Canada. Interestingly, she learned Spanish in Canada! Gisele currently works at El Futuro as an Access Coordinator serving new patients from the Latino community in Durham. She also serves as part of different groups at El Futuro – Clinical Operations, Las Increibles (Administration), La Mesita Network (Learning Cohort Pilot 2 ), and the ERT ( Emergency Response Team). She loves writing, meditation, flowers and spending time outside in her garden after a fulfilling day. She is a cat lover, having two at home and one feral that splits his meals with a raccoon. She loves her husband and daughters Bruna and Camila, family, and friends. Gisele's quotes – "Everything gets better when you sit in front of the Ocean, where the horizon looms before you and the sky touches the water – The best picture of Harmony" // "Beauty is anything that you pay your attention, only look at timelessly."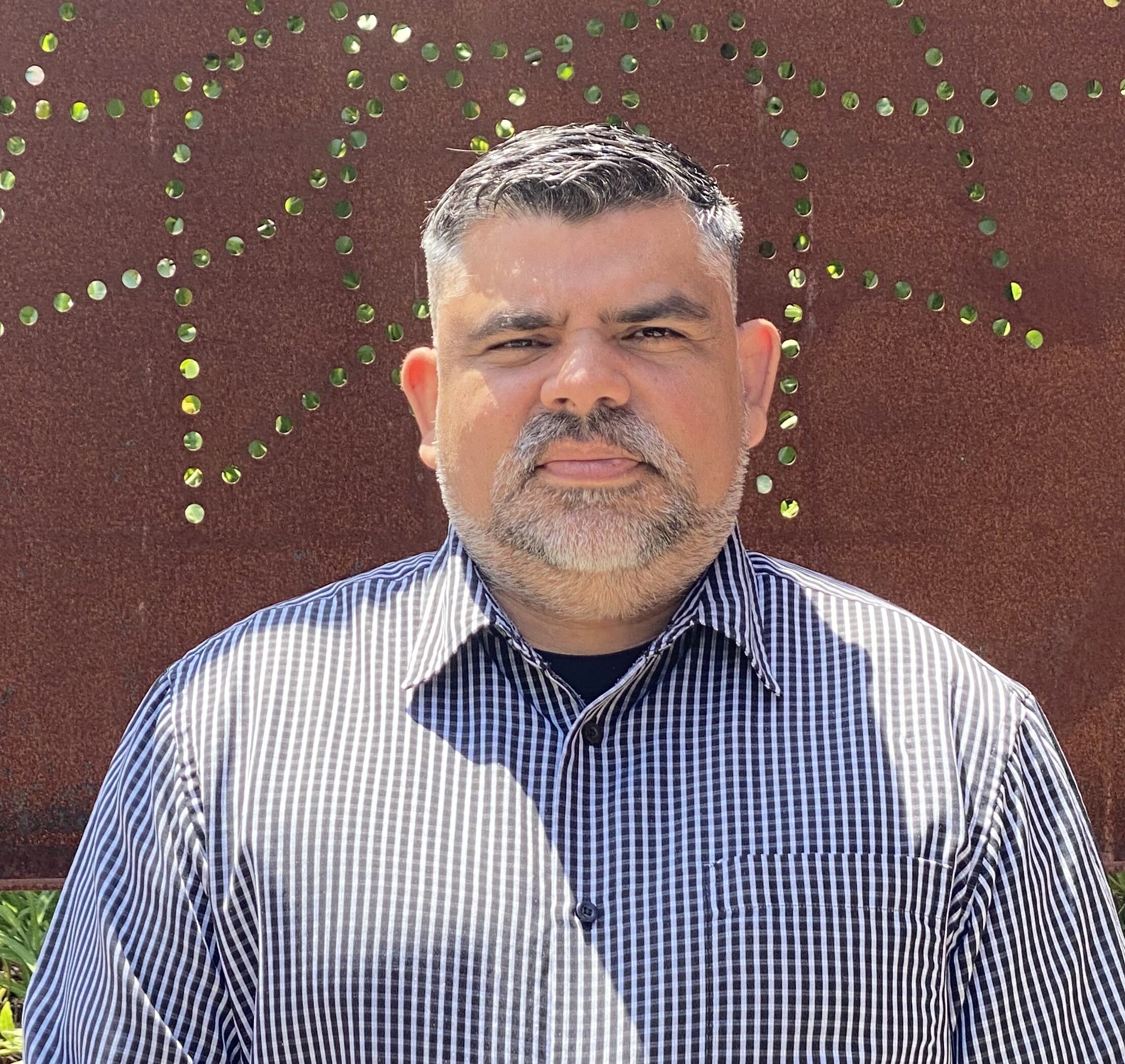 Dennis Duke
TeleBehavioral Health Therapist Ext 689
Dennis grew up in El Salvador and moved to the US when he was 15 years old. He went to school at NC State University, where he earned a Bachelors and a Masters degree in social work. Dennis served 4 years in the Marine Corps and 3 years in the California National Guard, where he served a tour in Iraq. He has been working as a School Social Worker in Lee County for the past seven years and works part-time as an ESL instructor at a local community college. Dennis comes to El Futuro with an interest to serve the Latinx community and to provide cultural-appropriate services. In his free time, he likes to watch sports on TV, spend time with his family and pets, and woodworking.
Elizabeth Evans, BSW
Advancement Officer, (919) 688-7101 ext 659
Elizabeth was born in Raleigh but moved back and forth to Mexico while growing up, speaking Spanish as her first language. She ended up back in Raleigh for her undergraduate studies at Meredith College where she studied Macro Social Work — focusing on organizational work, planning, and grant writing. As an undergraduate, she completed an internship at Triangle Down Syndrome Network, where she did database management and planned community events. Being Latina herself, Elizabeth was inspired to go into Macro Social Work because of the volunteer work she engaged in and the experiences of those close to her. In her free time, Elizabeth enjoys running and strength training — she's now training for 5K races in the hopes to one day participate in a marathon. She also enjoys reading and plants.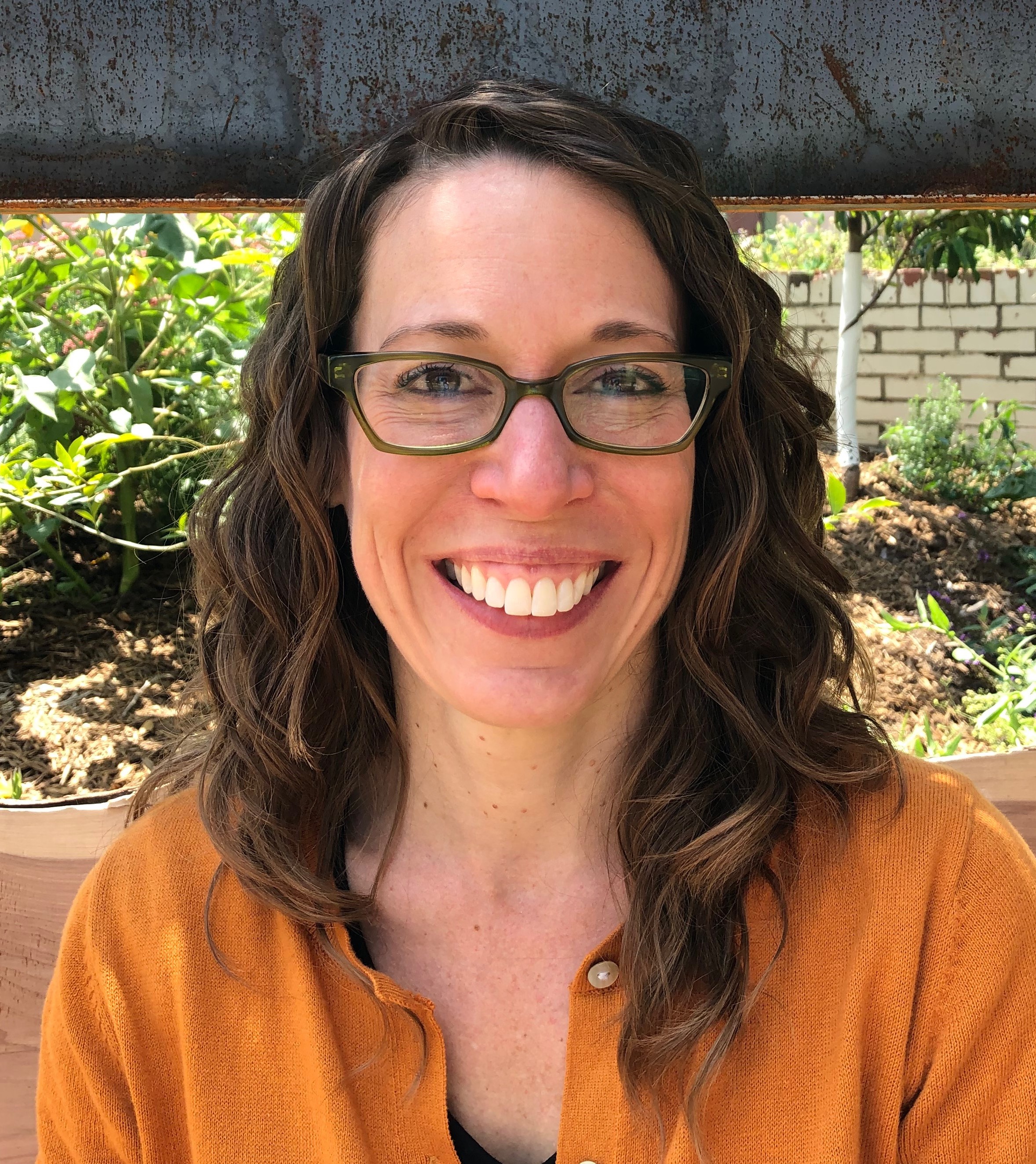 Molly Hayes, MEd, LCMHCS
Director of Enhanced Clinical Services, (919) 688-7101 ext 614
Molly lived in the Dominican Republic for several years as a child, but is native to Asheville, North Carolina. She has degrees from rival North Carolina universities: UNC-Chapel Hill (BA in International Studies) and North Carolina State University (Master's in Counselor Education with specialization in Clinical Mental Health Counseling). Molly has been connected with El Futuro since it's inception when she worked as a volunteer along with other caring and dedicated people to help bring the dream of El Futuro alive. In 2011 she joined El Futuro as a full-time clinical counselor. In counseling with her clients she uses her training in attachment based therapies, person-centered therapies, trauma processing therapies and mindfulness based practices to help facilitate healing and growth. Molly also has advanced training in clinical supervision and is a Licensed Professional Counselor Supervisor (LPCS). She provides clinical supervision and guidance and is also part of the programming and administrative team at El Futuro. She loves the diverse and creative ways she is able to bring to the mission of El Futuro to life through the various roles she fills. When not at El Futuro, Molly enjoys exploring food, culture and the outdoors with her husband, taking movement classes at the YMCA, cooking and eating healthy food and getting lost in a great book.
Mary Jones
Clinical Project Manager, 919-688-7101 ext 661
Mary Jones is from Urireo in Salvatierra, Guanajuato and moved to the United States in 2005 (December 12, to be exact). The first time she left her small hometown was to attend university at Instituto Tecnológico de Celaya, where she graduated with a degree in computer systems engineering. After arriving in the U.S., Mary was touched to see that she was still surrounded by all her people — she felt at home. She decided she wanted to do everything she could to help the immigrant community here, because not only had she grown up hearing about all the struggles immigrants faced, but she herself then experienced how hard it was to adjust after immigrating. At her previous job at Orange County Head Start — Early Head Start as an ERSEA (Eligibility, Recruitment, Selection, Enrollment, and Attendance) Coordinator, Mary focused for 11 years on being in touch with families, working with community agencies, coordinating referrals and making sure the program met all performance standards. Mary enjoys spending time with her husband, 11 year-old son, and 8-year-old daughter in nature; keeping in touch with her mom; volunteering at church; and reading.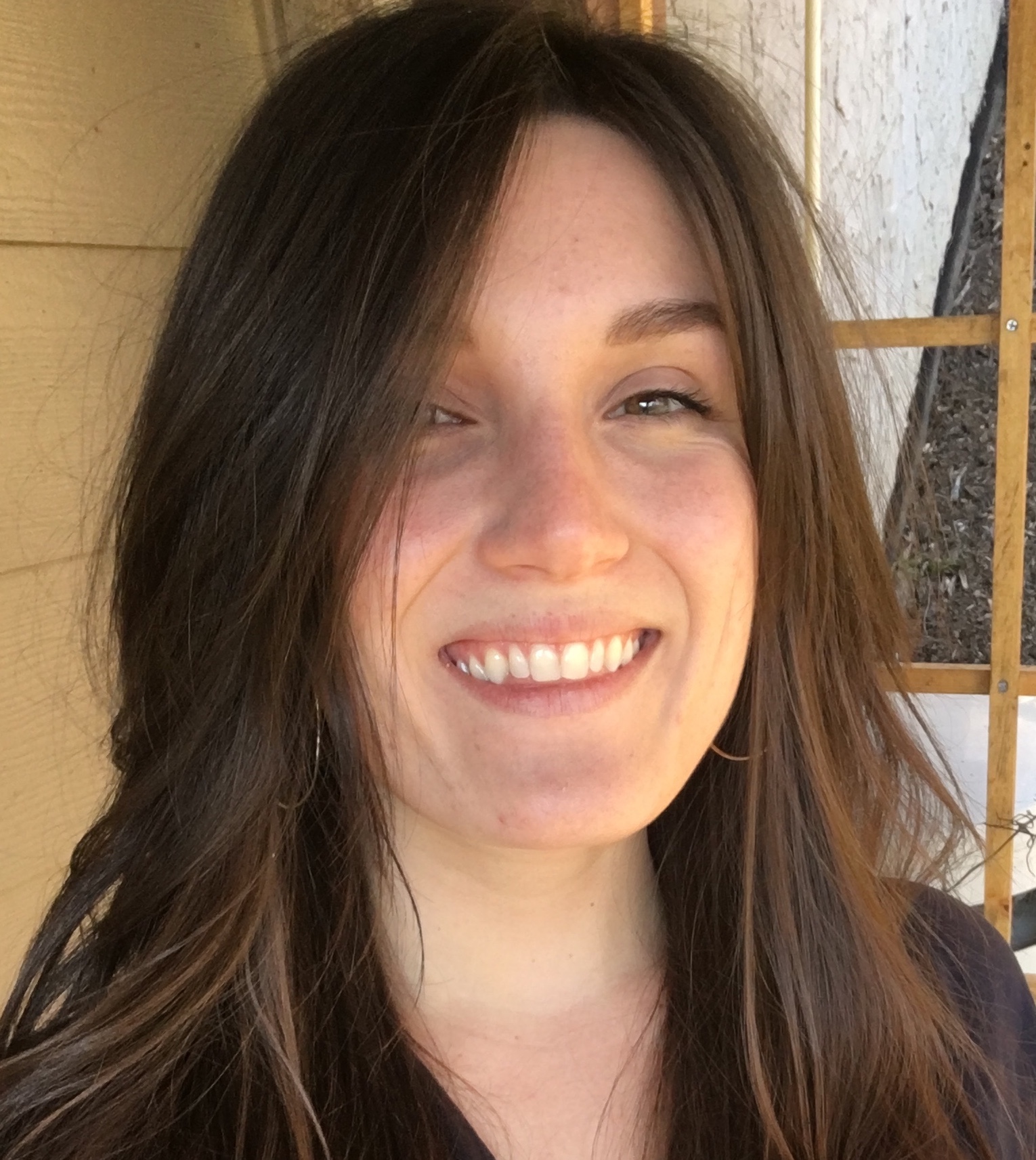 Madison McNair
Advancement Associate, 919-688-7101
Madi was born in New Jersey, but grew up in Raleigh, North Carolina. She graduated from Appalachian State University with a degree in Exercise Science. She took Spanish classes in high school, but really learned a majority of her Spanish from an internship in Ecuador where she worked for a year with an NGO. She considers herself to be at a beginner level but enjoys hearing the language and learning new words. She is excited to join us at El Futuro and feels El Futuro is a perfect blend of her past experiences in nonprofit and administrative work with the added bonus of allowing her to become more involved with her local community.
She enjoys outdoor activities, including hiking, fishing, and camping. She also loves to be creative with baking, crochet, knitting, and sewing.
Sarah Rawleigh, MA, LCSW
Therapist, 919-688-7101 ext 635
Sarah grew up in Julian, North Carolina, a rural area south of Greensboro. She attended Warren Wilson College near Asheville, NC where she earned a BA in Environmental Studies. After college, she took the scenic route and lived and worked in different parts of the U.S. and spent a couple years teaching English in Madrid, Spain. She earned a Master of Social Work at the University of North Carolina at Chapel Hill in 2017. As a graduate student she also studied K'iche' Maya, an indigenous language of Guatemala. Sarah has received training in Trauma-Focused Cognitive Behavioral Therapy, which is a type of treatment used to treat trauma in children. Her therapy practice also incorporates techniques from Cognitive Behavioral Therapy, somatic experiencing techniques, and trauma-informed and mindfulness-based interventions. She works at El Futuro's primary clinic in Durham and also at A.L. Stanback Middle School in Hillsborough, where El Futuro provides school-based therapy. When she's not at El Futuro, she may be spending time with her family and friends, cruising around on her bike, hiking along the Eno River, or experimenting with a new food recipe.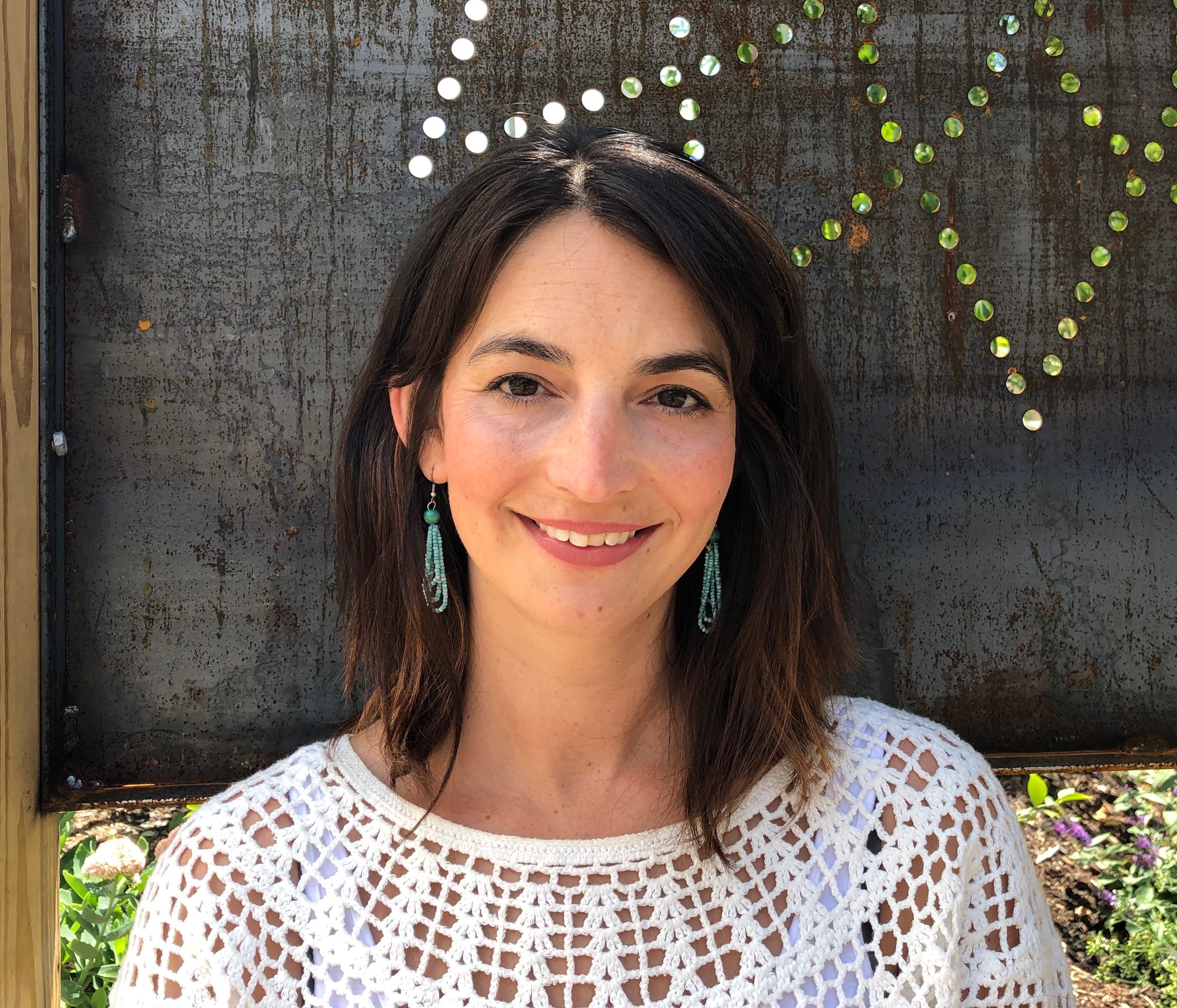 Mary Elizabeth Johnson Rockers, LCSWA, BC-TMH
Teletherapy Program Lead Certified-TeleMental Health Provider, ext 663
Mary Rockers, LCSWA, grew up in east Tennessee but has spent most of her life in North Carolina. Growing up, her parents traveled a lot through Latin America and her mom was a migrant health nurse. Going to see migrant families near her home with her mom shaped her worldview and opened her eyes to the local really being global. Since then, she's been interested in working with and knowing people from all different cultures and communities.
When she was at Guilford College pursuing majors in Spanish and Sociology, Mary traveled a lot to Latin America, honing her Spanish skills and distilling more in her mind what she wanted to do after college. She received her Masters of Social Work from UNC Chapel Hill where she focused on community practice with immigrants and refugees.
Since 2007, Mary had worked at the NC Farmworker Health Program directing their behavioral health expansion work and leading their grant-funded behavioral health programs. One of those programs was Telehealth for farmworkers, and after coordinating those services for a while, Mary realized she wanted to provide them.
In her free time, Mary rocks out with her band (Nantahala) and does hand lettering as well as all things craft. She loves to read, hike, and play with her kids in their yard.
Sarelli Rossi, MHA
Director of Operations, (919) 688-7101 ext 603
Sarelli feels all of her experience from growing up in Peru to finishing her Masters in Health Administration at UNC prepared her to be our Operations Director and get to do her "dream job!" Sarelli was born in Peru before moving to Chapel Hill during high school. After graduating from ECU with a degree in Psychology and minor in Biology, she earned her Masters in Health Administration from UNC-Chapel Hill while working full time at the Carolinas Cord Blood Bank. She came to know El Futuro through volunteering and so was already part of our team before she joined El Futuro's staff in the late summer of 2010 as our Clinic Manager. She later was promoted to Director of Operations. Her commitment to the Latino community is obvious in every interaction. Sarelli makes families feel welcome and quietly does the heavy lifting behind the scenes to make the impossible happen every day. In her spare time she can be found with her family and listening to music!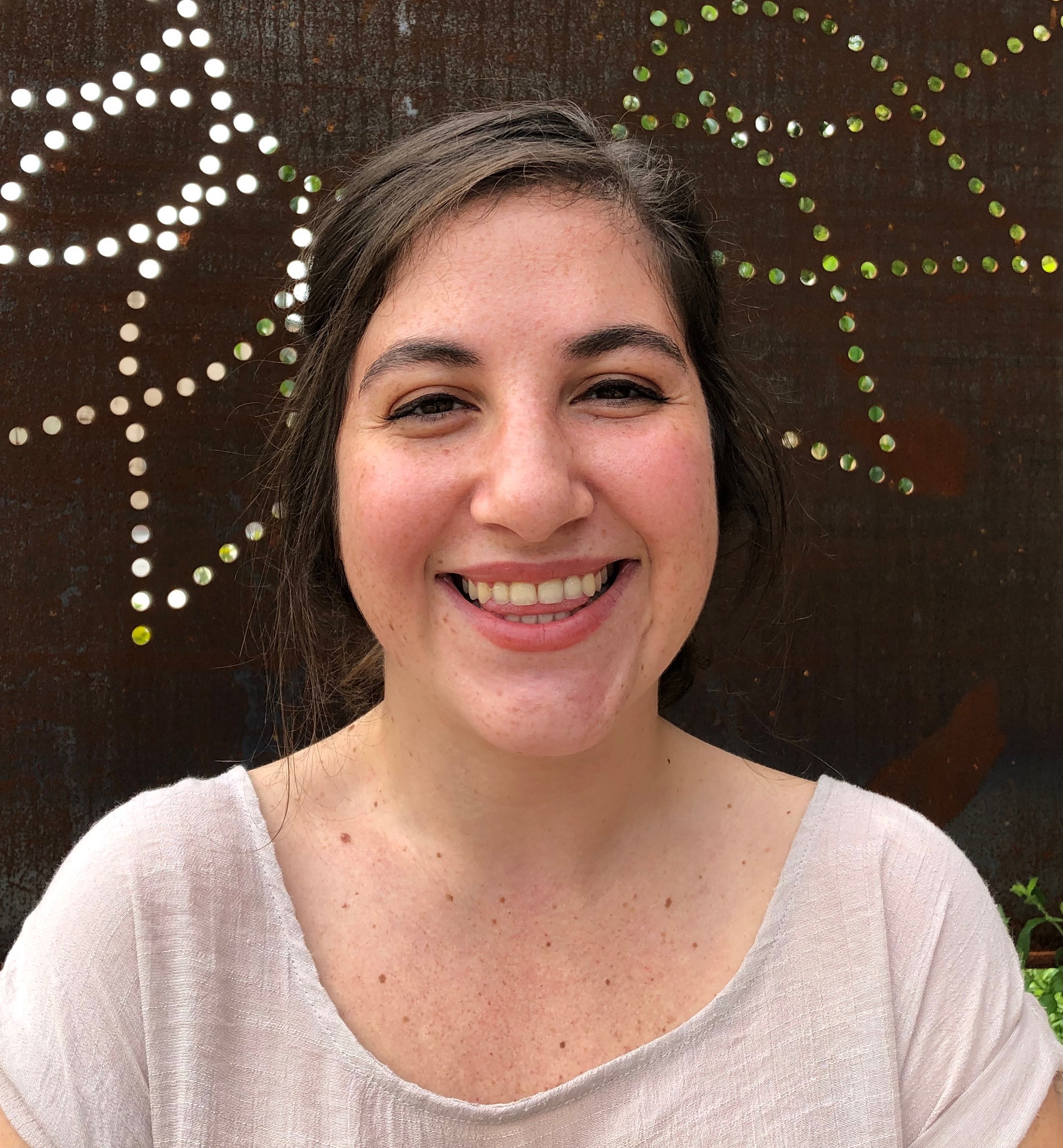 Rachel Siegel
Outpatient Therapist, (919) 688-7101 ext 669
Originally from Miami, Rachel received her undergraduate degree from UNC Asheville in Nonprofit Development, a degree she created in their interdisciplinary studies department. She recently completed her Masters in Social Work from Appalachian State University. Growing up in a Cuban-Israeli family, Rachel learned some Spanish at home, but really became fluent when she moved to Galicia, Spain after college to teach English and work at a Panaderia. After coming back home from Spain, Rachel worked at a group home for children in foster care, which inspired her to pursue a career in social work. She is especially interested in international relations and creating global community, previously working at USCRI in Raleigh towards these ends.
Rachel enjoys spending quality time with her cat, Jude, watching movies, hanging out on a river, listening to podcasts, and singing!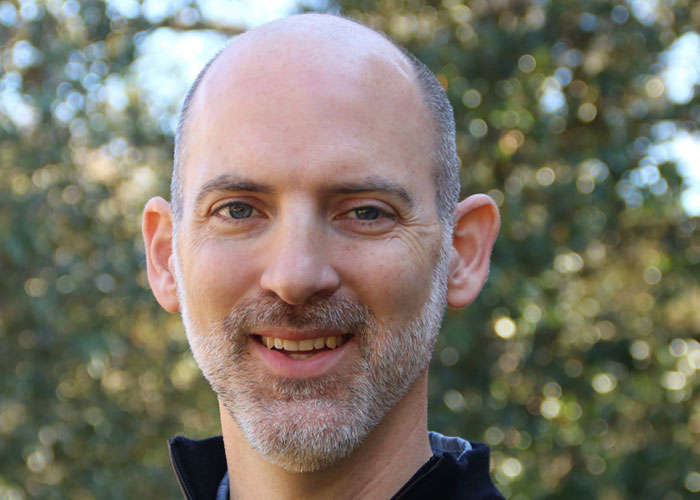 David Lucas "Luke" Smith, MD
Psychiatrist and Executive Director, (919) 688-7101 ext 604
Luke Smith was raised in Arkansas and moved to North Carolina for training in child and adult psychiatry. After volunteering in the community and perceiving a great need for Spanish language services, Dr. Smith mobilized the community to create El Futuro. He is the Executive Director and Medical Director, and provides psychiatric care to both children and adults. Each year, he and his staff provide services to 1,500 – 1,700 children and families who come for help. He is double board certified in both adult psychiatry and in child and adolescent psychiatry. In addition to being active with direct services and shaping policy at the local and state level, Dr. Smith leads the organization in research efforts through projects funded by the NIMH and PCORI with a focus on creating evidence based practices that are especially targeted to help the North Carolina Latino Community.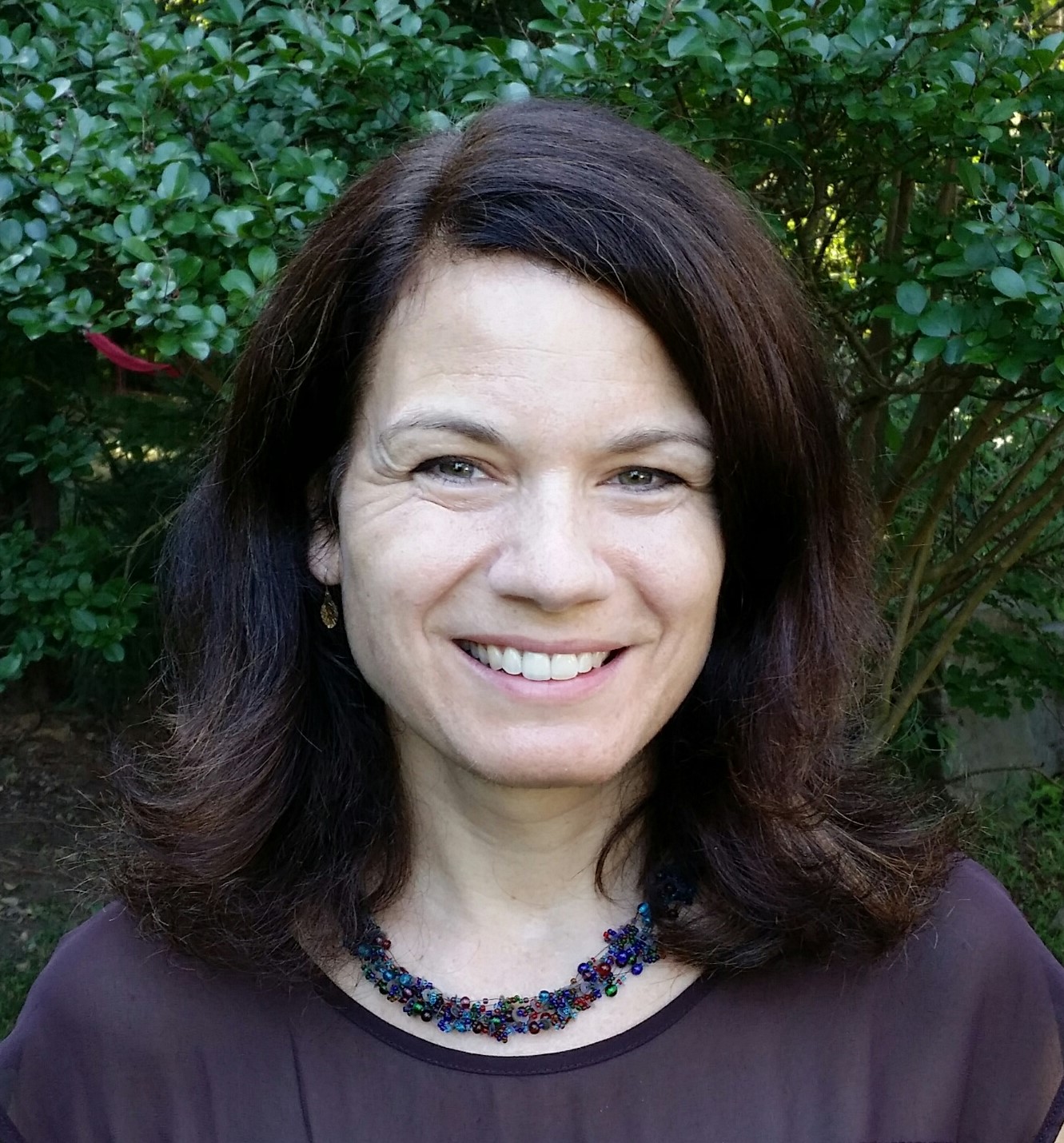 Lynn Tovar, PhD, LCMHC, NCC
Therapist, (919) 688-7101 ext 626
Originally from Wisconsin, Lynn lived in Mexico City for four years prior to moving to North Carolina. In Mexico, she taught in a graduate counseling program and volunteered with a non-governmental organization focused on sustainable development in rural areas. As a professional counselor, Lynn has worked with individuals across the lifespan and in multiple contexts. She uses cognitive behavioral therapies, mindfulness practices, and trauma processing therapies in supporting children, adolescents, and adults toward improved mental health and wellness. Lynn has a doctorate in Counseling and Counselor Education from North Carolina State University, and a master's degree in Counseling and Career Development from Colorado State University. She is a Licensed Professional Counselor in North Carolina and a National Board Certified Counselor. In addition to the heart-filled work that she does at El Futuro, Lynn loves spending time with family and friends, keeping active outdoors or at the Y, exploring the local cultural arts scene, and trying out new recipes.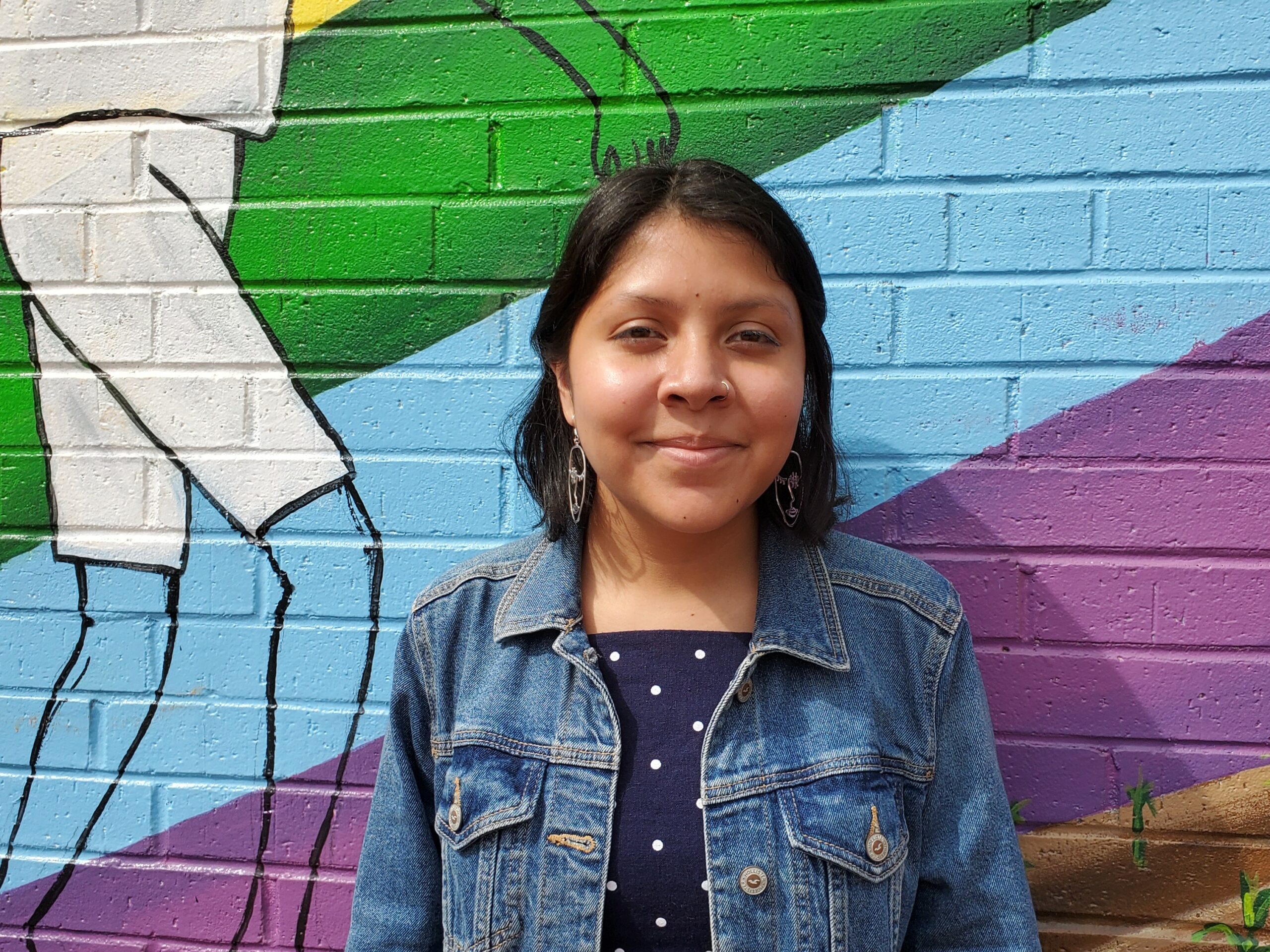 Jaeleen Mendoza
AmeriCorps Community Engagement and Garden Coordinator, 919-688-7101 ext 683
Jaeleen was born in California, but grew up in Pfafftown, NC a very small town outside of Winston Salem. She went to NC State, where she studied international studies and communication media and minored in Italian. Growing up, she spent a lot of time in Georgia, because it's where the closest family lived. She really enjoyed being able to get that experience of seeing her cousins at least twice a year and also loved her family trips to the beach each year.
She graduated from NC State this past May. While in school she worked as a high school teacher's assistant for Spanish classes and after school she helped students apply to colleges and scholarships. She also worked for the office of Waste Reduction and Recycling at NC State where she was a waste diversion intern in charge of volunteering at different events, creating educational content for their social media and encouraged the campus to be more sustainable. She has worked as a barista at two different cafes and one of her favorite jobs was as a graphic designer on a documentary through NC State dealing with hurricane recovery and community resiliency in Robeson County, NC.
In her free time, Jaeleen likes to explore walking trails, visit the NC Museum of Art, learning new baking recipes, painting, and thrift shopping with her mom.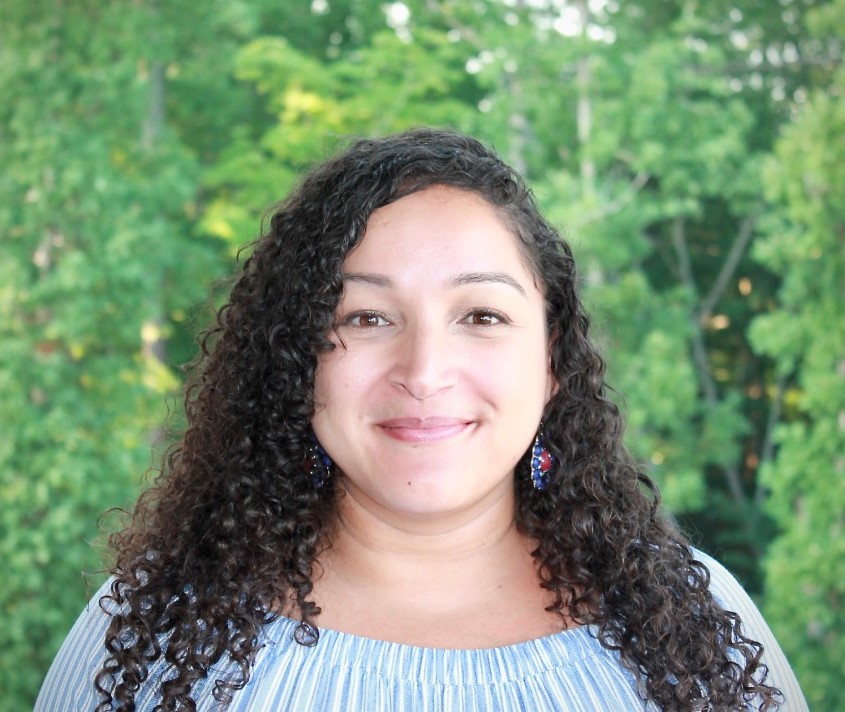 Alvely "Camila" Alcantara, MSW, LCSW
Therapist, 919-688-7101 ext 625
Alvely was born in the Dominican Republic, and moved to New York City when she was six years old. Alvely has lived in NC since 2006 after her husband joined the military. After moving to North Carolina, Alvely completed her Bachelor of Arts in Psychology, and then obtained a Masters in Social Work concentrated in Mental Health and Military Social Work. Alvely is passionate about social justice and mental and emotional health, especially in the Latino community. She believes that teaching individuals to identify and change unhealthy thought patterns and develop self-compassion and self-awareness is one of the most important skills she can teach clients. Alvely utilizes a person-centered approach in combination with body oriented treatment modalities such as mindfulness, self-compassion, guided meditations, breath-work and techniques from her training in EMDR, CBT, CPT, Motivational Interviewing and DBT. She believes that her role as a therapist is to listen with intention and compassion as this can create emotional healing and that connection to others and to ourselves can improve the mental and emotional well-being of all involved. In her free time, Alvely likes to spend time with her husband and loved ones, reading, writing, listening to music, and having deep conversations about the complexities and richness of life experiences.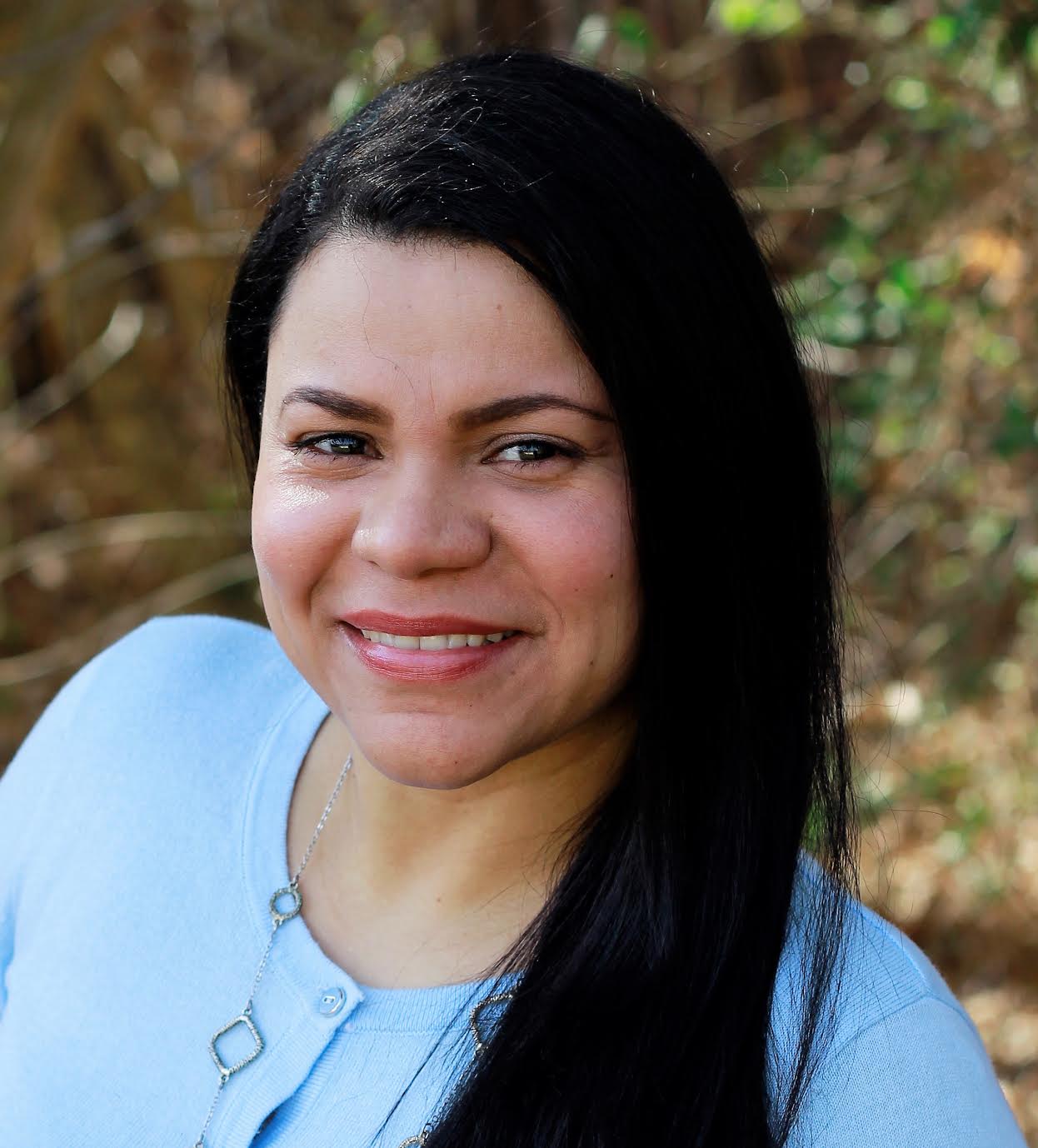 Triana Barrios Gutierrez
Clinical Project Manager, (919) 688-7101
Triana was born and raised in Cartagena, Colombia where she completed her undergraduate education, obtaining a Computer Systems Engineering degree from La Fundación Universitaria Politécnico GranColombiano. Her first formal work experience was as a project manager at ECOPETROL, the national Columbian oil company. In 2009 Triana relocated to the Raleigh area and has resided here ever since. In 2010 Triana began working at the Latino Community Credit Union, where she witnessed the many struggles that the Latino population, and specially the undocumented portion of this population, face.
In her free time, Triana enjoys going to the movies, running, riding bikes and spending time with her husband and two kids, here and in her native Columbia.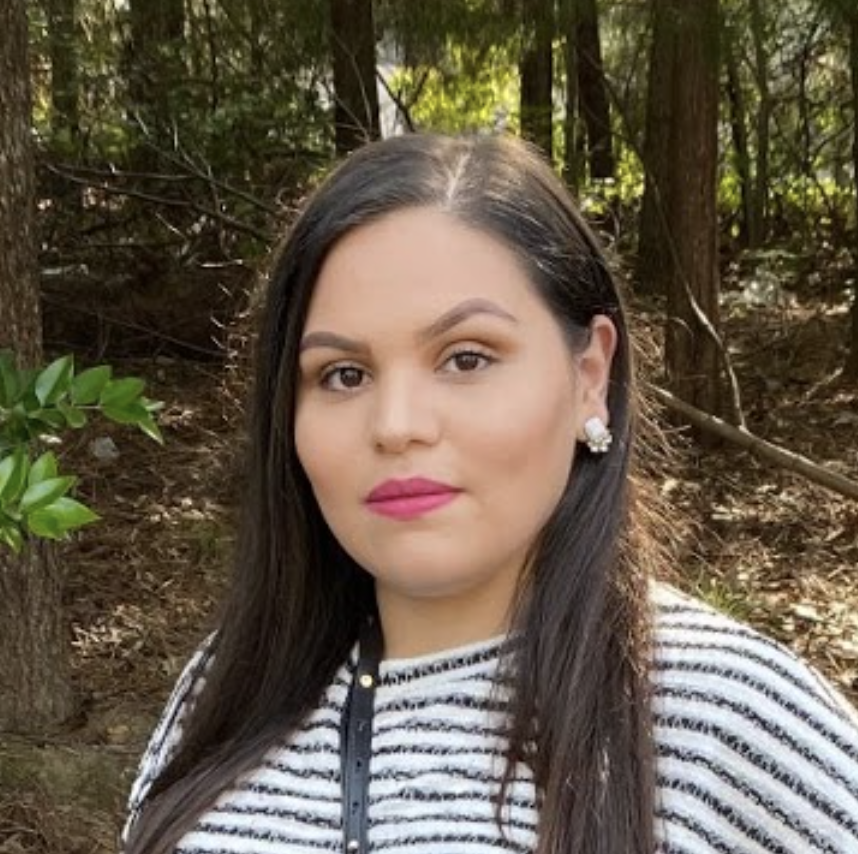 Brenda Castañeda
TeleHealth Administrative Assistant 919-788-6101 ext 688
Brenda was born in Carrboro, NC and grew up in Mebane, where she lived until 2 years ago when she moved to Durham with her husband. She worked at UNC Health for 4 years as a Medical Spanish Interpreter. This is where she fell in love with helping the Latinx community bridge the gap of the language barrier in healthcare. During the Covid-19 pandemic, she witnessed the increased need for mental health services and her interest to work in this field grew while working as the primary interpreter in psychiatric units in the hospital. When she's not working, Brenda likes to spend time with her 1 year old son, Adrian, listen to true crime podcasts, watch true crime shows on Netflix, and go for long walks.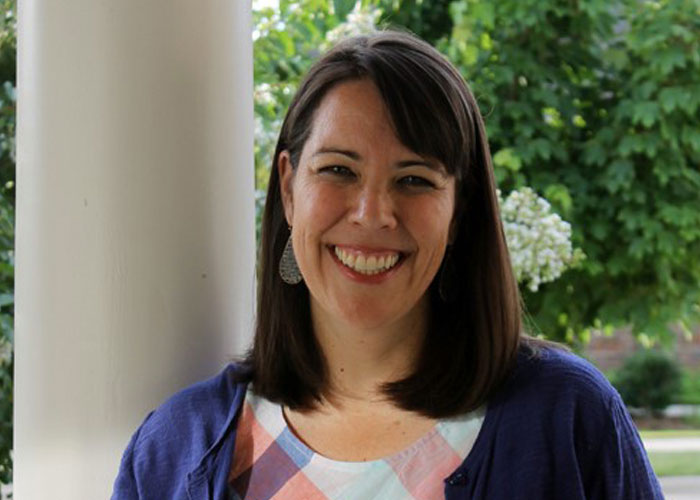 Courtney Crawford, MSW, LCSW
Director of Outpatient Clinical Services and Therapist, (919) 688-7101 ext 623
Originally from California, Courtney began learning Spanish during her time pursuing her undergraduate degree at UCLA. Upon graduation, Courtney moved to Argentina, where she spent seven years working with university students and helping to develop projects to benefit rural Andean communities. During her time in Argentina, Courtney's interest in mental health and social advocacy grew. Relocating from South America to the American South, Courtney obtained a Masters degree in Social Work from UNC-Chapel Hill. She has been part of the El Futuro team since 2013, and is grateful for the time that she is able to spend with clients and colleagues as a therapist and a clinical supervisor. With advanced training in treating trauma in children and adults, she serves clients who are facing many different difficulties. She has described her time with clients (and the trust that they give her) as a unique gift, one that impacts and influences her every day. Courtney's favorite hobby is exploring, particularly when mountains are involved.
Sofia Edelman-Stanley
Clinical Education and Training Project Manager, (919) 688-7101 ext 652
Sofia is originally from Portland, OR. She relocated with her family to North Carolina in 2007 and has called it her home ever since. Sofia studied Psychology at UNC Chapel Hill, and while there, worked as an editor for two publications and honed her skills in newspaper and magazine writing and photojournalism. Sofia has always been interested in the healthcare field, and has a passion for mental healthcare access. Sofia's father is from Argentina and so she speaks some Spanish but looks forward to practicing more as a Futurista. She's excited to help make a difference in our community by supporting the work we do for the Latinx families we serve! When Sofia isn't at work, she loves to cross stitch, bake, play guitar and hike at local spots.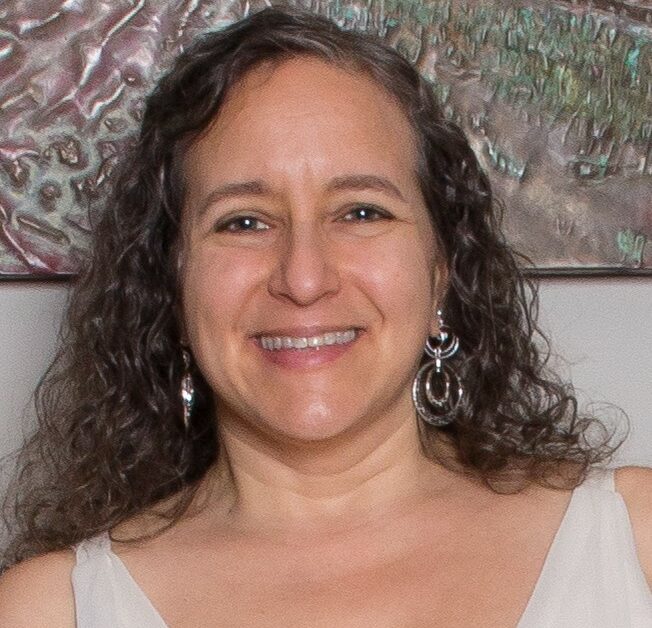 Rachel Galanter
Technical Assistance and Consultation Program Lead
Rachel grew up in the United States and lived in Chicago, New Haven, Buffalo, Madison (Wisconsin), New York and Seattle before she settled in Durham in 1996. As a child, in addition to her other moves, she twice lived abroad and was immersed in a foreign school system, language, culture and community. Rachel learned Spanish as an adult and developed fluency as a foster parent to a child who was a recent immigrant from Mexico and spoke no English. From her time as a foster parent Rachel added two daughters—and now four grandchildren—to her family. Rachel has a Bachelors in Psychology from Columbia University and a Masters in Public Health focused on Maternal and Child Health from UNC in Chapel Hill. She has over 25 years of experience with supporting children, youth, and families. She has used Motivational Interviewing and the Community Resiliency Model on top of evidence based parenting coaching models to help families address barriers to helping their children thrive. A certified trainer by the Motivational Interviewing Network of Trainers, she has provided training and coaching to professionals on client engagement, cultivating resilience, cultural awareness, cross cultural communication, coaching, and implementation of best practices to help other agencies in meeting clients where they are and empowering them to achieve their goals.
Mary Hondermann
Communications Manager, (919) 688-7101 ext 684
Mary grew up in Medellin, Colombia and has a degree in Advertising and Graphic Communications from Universidad de Medellin and a Masters in Marketing Management from Universidad Bolivariana. She has always liked being creative and seeing the world with different eyes. Mary has over seven years' experience working in communications and marketing for beverage and retail corporations in Colombia. Mary loves working at El Futuro, because it allows her to meet immigrant people like herself, with similar sentiments and hopes, and it motivates her to help other Latinos through her work.
Kiara Luna-Reyes
Clinic Manager, 919-688-7101 ext 705
Kiara was born in Puerto Rico and moved to Chapel Hill when she was in her early teens. She graduated from UNC Greensboro in 2018 with a degree in Psychology and is currently working on her Masters in Clinical Psychology. Having a parent working in the psychology field, she was always exposed to psychology from an early age and therefore sparked her interest in pursuing a career in it as well. Besides her interest in psychology, Kiara is also a lover of animals and has experience caring for all types— including snakes and frogs!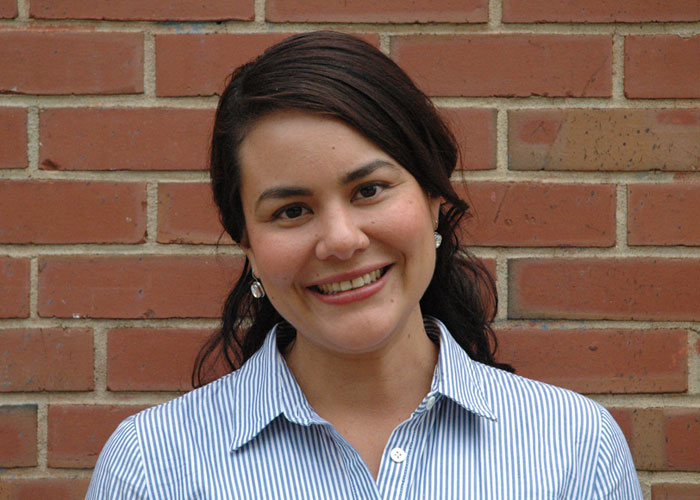 Cecilia Ordóñez, MD
Psychiatrist, 919-688-7101 ext 648
Cecilia was born and raised in Guayaquil, Ecuador. After finishing medical school at the Universidad Catolica de Santiago de Guayaquil, she came to Durham to begin her training in Psychiatry at Duke University. During her residency she was interested in community mental health. She began her work with El Futuro first as part of an elective program through Duke. During this time she realized how much she enjoyed being able to work with our Latino community and being able to both express herself in her native language and connect to clients in theirs. When Cecilia isn't working at El Futuro, she enjoys playing different sports, traveling, and checking out new local restaurants.
Dayhana Ray, LCMHCA
Therapist, (919) 688-7101 ext 667
Dayhana Ray was born in the Dominican Republic and grew up in New York City. She stayed in-state to attend Syracuse University and received her Bachelors of Science in Psychology, returning to NYC to attend Mercy College for her Masters in Science in Mental Health Counseling in May of 2018.
She has always been interested in helping people, and was drawn to the mental health field after working at a Domestic Violence Agency for four years. She said getting her masters to be able to work as a clinician is one of the best decisions she's ever made. At her previous position she worked mainly with Latinx survivors and is excited to be able to continue to serve the Latinx community at El Futuro.
In her free time, Dayhana enjoys relaxing with some sewing or crocheting projects!
Dalila Rodriguez
Clinical Assistant, 919-688-7101
Dalila started working at El Futuro two years ago and has been an integral part of our front desk team ever since. She grew up in Puerto Rico and Colorado Springs, and remembers wanting to be a teacher when she was younger. When she got a little older, Dalila's dream was to be a social worker, and she worked in social services in Colorado Springs and Durham. When Dalila first heard about El Futuro she realized its mission was close to her heart. She was interested in learning more about the world of nonprofits and loved that El Futuro helps the Spanish-speaking community in Durham. She said this is a place she hopes to grow old in. In her freetime, Dalila adopts whatever her kids' hobbies are in the moment, but also likes to take "me time" to dance and swim.
Cristal Salazar-Montoya
Clinical Assistant
Cristal grew up in Durham and Hillsborough and recently completed the Community Interpreter program at Durham Tech, where she is also finishing her Associate's Degree in Applied Sciences. Cristal previously worked at The Center for Global Learners at Durham Tech, helping students select classes and providing information about the ESL classes and programs. Cristal came to work at El Futuro because the services resonate with her beliefs and morals, mental health is very important to her and she wants to be part of a team that is helping the community and clients. She really likes El Futuro's work environment and how everyone here has the Latino community's best interest at heart. Cristal enjoys drawing, painting, cooking, and hiking. She likes to hang out with her family and friends, sing karaoke and dance. She also loves reading, movies, and shows.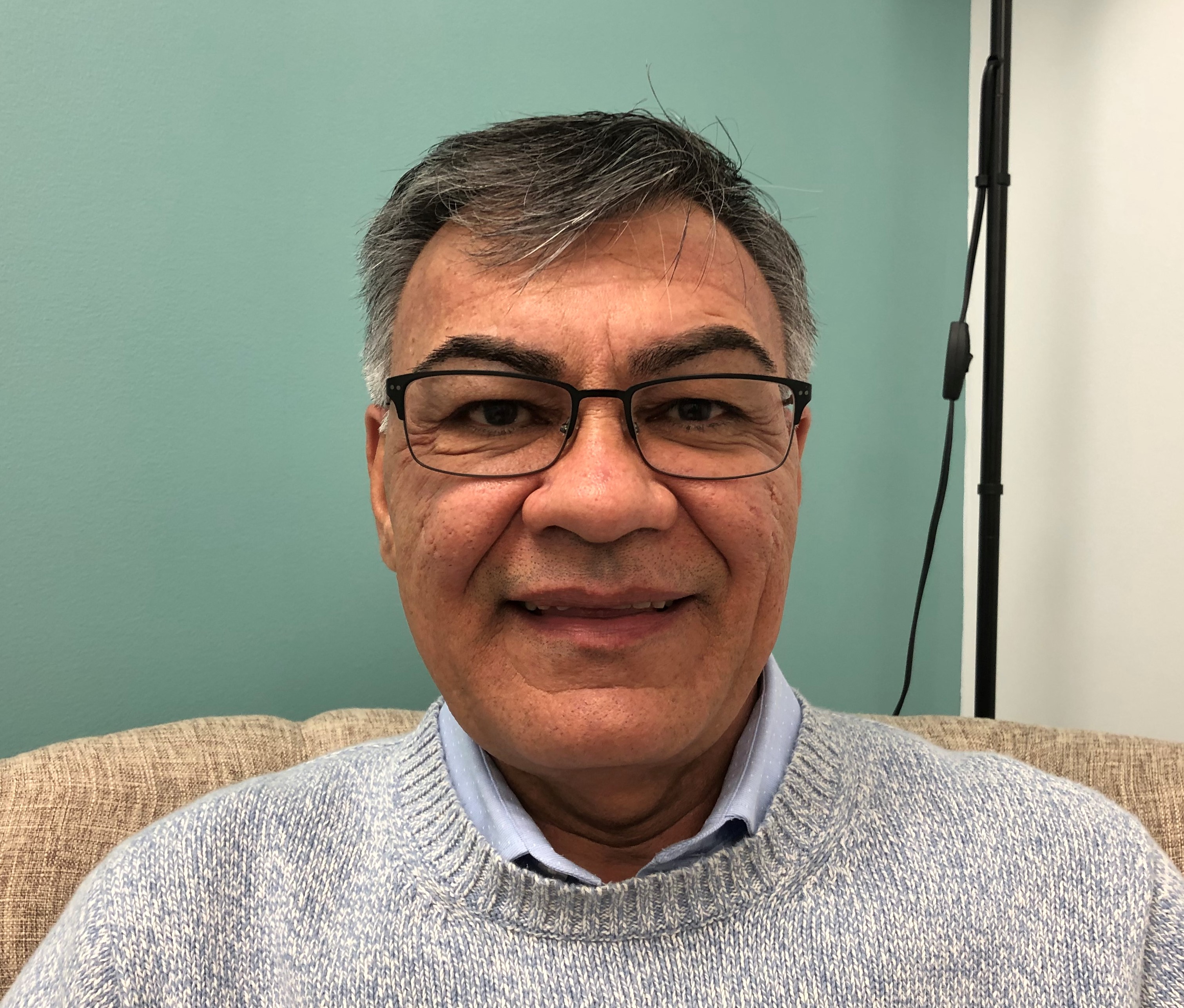 Pablo Silva, MA, CSAC
Substance Use Therapist, (919) 688-7101 ext 675
Pablo Silva joins El Futuro as a Substance Use Counselor. Originally from Puerto Rico, his first career was in electronics. When his supervisor at the time realized his potential to help others, he recommended he pursue a degree in Business Administration. Eventually, Pablo decided he wanted to pursue his Masters in Counseling Psychology. Pablo started his work in foster homes and has now been doing substance use counseling for the past 4 years. Since substance use can be a product of larger problems, Pablo tries to be an agent of change for the people he sees. 
In his free time, Pablo enjoys watching Houston Astros baseball and Dallas Mavericks basketball because they have Puerto Rican players on their team!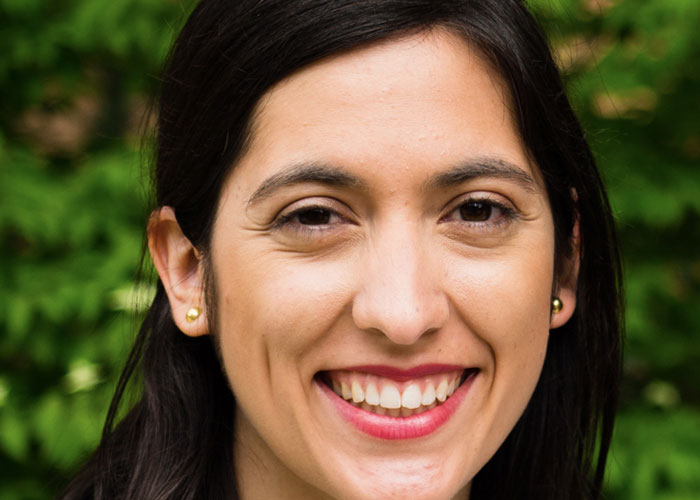 Magdalena Straub, MS, LMFT
Therapist, (919) 688-7101 ext 639
Magdalena grew up in Santiago, Chile, where she received her undergraduate degree in psychology at Universidad Catolica de Chile. After graduation, she worked with at-risk children and adolescents, using a systemic perspective. Seeing the need to understand her clients in a bigger context, Magdalena moved to College Park, MD to pursue an M.S. in Couple and Family Therapy at the University of Maryland, where she worked with families, couples, and individuals from diverse backgrounds. In her work she has used a number of therapeutic approaches, and has come to believe that a central aspect of therapy is the relationship between the therapist and the client, emphasizing the therapist being nonjudgmental and compassionate. When she is not working, Magdalena can be found reading novels, cooking vegetarian dishes, or going for a run.
Luis Velarde
Case Manager, (919) 688-7101 ext 619
Luis was born in Lima, Peru and immigrated to Sanford, NC at age 9. He graduated valedictorian from Southern Lee HS and then attended the University of North Carolina at Chapel Hill, obtaining a BA in Psychology. Luis began his work with El Futuro as an administrative assistant in August of 2015, was promoted to Clinic Manager in early 2016, and most recently started providing case management services as part of our Conexiones team. Luis strongly identifies with El Futuro's mission and is happy to facilitate the process of providing the Hispanic community with beneficial services and links to community resources that are otherwise not easily accessible to them. Luis believes that, even though inequality is an inescapable feature of society, El Futuro is a prime example of how a positive difference toward justice and equality can still be made. In his free time he enjoys listening to music, watching soccer, and being out in nature.
Nilda "Nena" Peragallo Montano, DrPH, RN, FAAN – Chair
Dean, UNC School of Nursing
Cecilia Barja Chamas, MPP – Vice Chair/Secretary
Community Organizer
Richard Bruch, MD – Member Treasurer
Consultant, EmergeOrtho, P.A.
Kevin FitzGerald, MPA – Member
Manuel Nieto, MBA – Member
BB&T
Wayne Holden, PhD – Member
RTI International
Karlina Matthews, MBA – Member
UNC Health
Hope Williams, JD – Member
Staff Attorney, Legal Aid of North Carolina
Jenni Owen, MPA – Member
Director of Strategic Partnerships, Office of NC Governor Roy Cooper
Rosa Gonzalez-Guarda, PhD, MPH, RN – Member
Associate Professor, Duke University
Lister Delgado, MBA, MS – Member
Venture Capitalist
Merywen "Wenny" Wigley, MSc – Member
Associate Compliance Director at IQVIA
Luis Alvarez – Member
Owner of Bull City Brick and Luna Night Club, Vice President of Mante Masonry