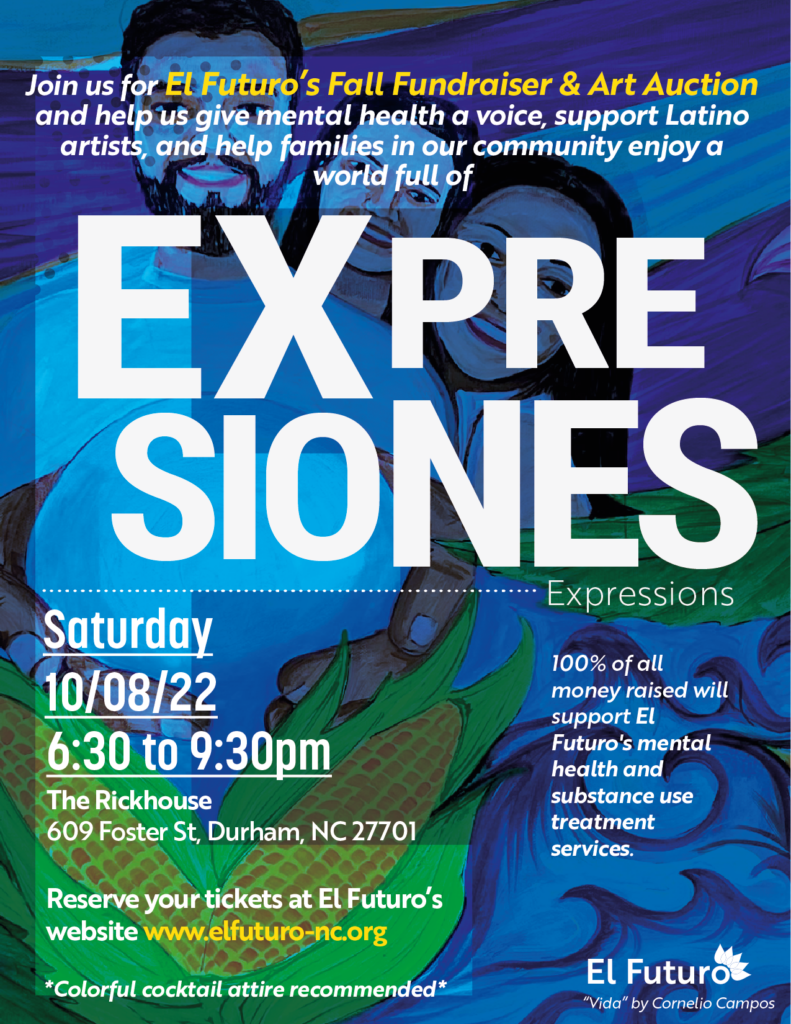 For the second year in a row, El Futuro will host a Latino Art Auction & Fundraiser in order to attract new supporters for our work, raise funds for organizational sustainability, and uplift local artists. This year, the event will be in-person at The Rickhouse in downtown Durham on Saturday, October 8 from 6:30-9:30pm with a Special Supporter hour from 5:30-6:30pm. In addition to the art auction, the event will include dinner, an open refreshment bar, and live music.
This year's theme is Expresiones/Expressions which speaks to the juxtaposition of the work of the artist and the individual who uses the therapeutic services that El Futuro offers. We believe that therapy is similar to art in that it is an expression of the inner self, but in order for the person to feel free in their expression, several elements must be in place: space, guidance, and the freedom to experiment with different approaches. El Futuro works with families in this way – by providing a safe space where they can express themselves, experiment with alternatives, open themselves to creative problem solving, explore their emotions and move forward. As a result, we are promoting a world full of color and self-expression.
Ticket costs for the Art Auction & Fundraiser are $75 for General Admission and $125 for Special Supporters. El Futuro is covering all costs so 100% of guest ticket purchases and bids go to El Futuro's mission. All guests will receive an auction catalogue with information about the art/artists and auction items as well as additional information about El Futuro and our sponsors. The art pieces for the auction will be prominently displayed for people to view throughout the evening. The dinner will be a Mexican-American fusion cuisine and all guests will have open access to a beer and wine and non-alcoholic refreshment bar. With all vendors, we hope to highlight and promote Latino contributions. Recommended dress attire is colorful cocktail.
Find out more and purchase tickets at the link below. If you represent a business, you can also find out more information about event sponsorship at the link.
For any questions or for additional information, please contact Mary Coffman (Advancement Manager) at mcoffman@elfuturo-nc.org.
Read an article from Qué Pasa about this event HERE
Thank you to our sponsors