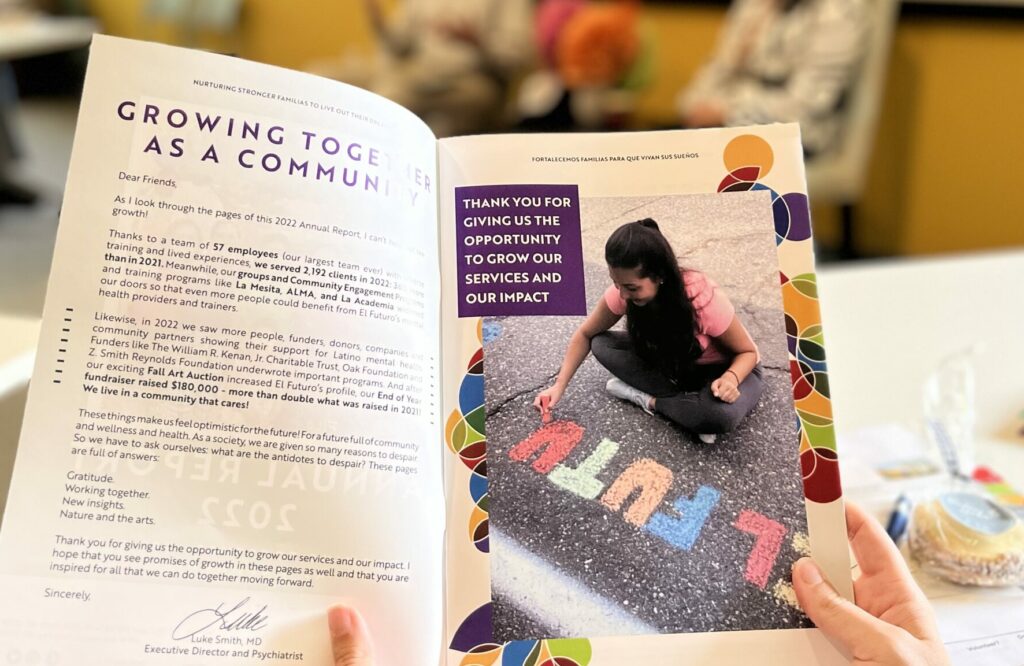 During the Forum at St. Thomas More Catholic Church organized by Justice United and the North Carolina Congress of Latino Organizations, which took place on Thursday, May 18, Alliance Health announced that $500,000 is being invested in improving access to mental health services for Spanish-speaking residents in Orange County.
At El Futuro, we know the high demand for these services in the Latino community and continue to provide easily accessible opportunities to address this need. One of these measures is the walk-in clinic for new clients at both Durham and Siler City locations.
Thanks to the partnership with Alliance Health, new opportunities will open to provide mental health services to the residents of Orange County. We are honored to be part of this work to advance projects that benefit our community.
"We're so grateful for the partnership from Alliance Health in building capacity to provide more culturally-responsive mental health services for Orange County Latino residents. Their partnership will not only help recruit and retain qualified, bilingual personnel, but will also help expand community-engaged services through the work of Spanish-Speaking Community Mental Health Workers, who can help increase mental health promotion, awareness, prevention, and positive outcomes." -Kerry Brock, Associate Director at El Futuro.
Today, El Futuro therapists continue to serve clients in this county after we were forced to close the Carrboro office due to lack of funding. "Today we continue to serve our clients in this county virtually, thanks to the help of Alliance Health," says Luke Smith, El Futuro's Executive Director.
Luke also shared that "there is a high turnover rate in the mental health workforce, which is due to the high level of stress generated by offering services to people who have high rates of trauma and complex social/mental health problems, and also to low reimbursement rates for services." The support pledged from Alliance will help to adequately reimburse this important work by therapists and will support new areas of service by Spanish-Speaking Community Mental Health Workers.