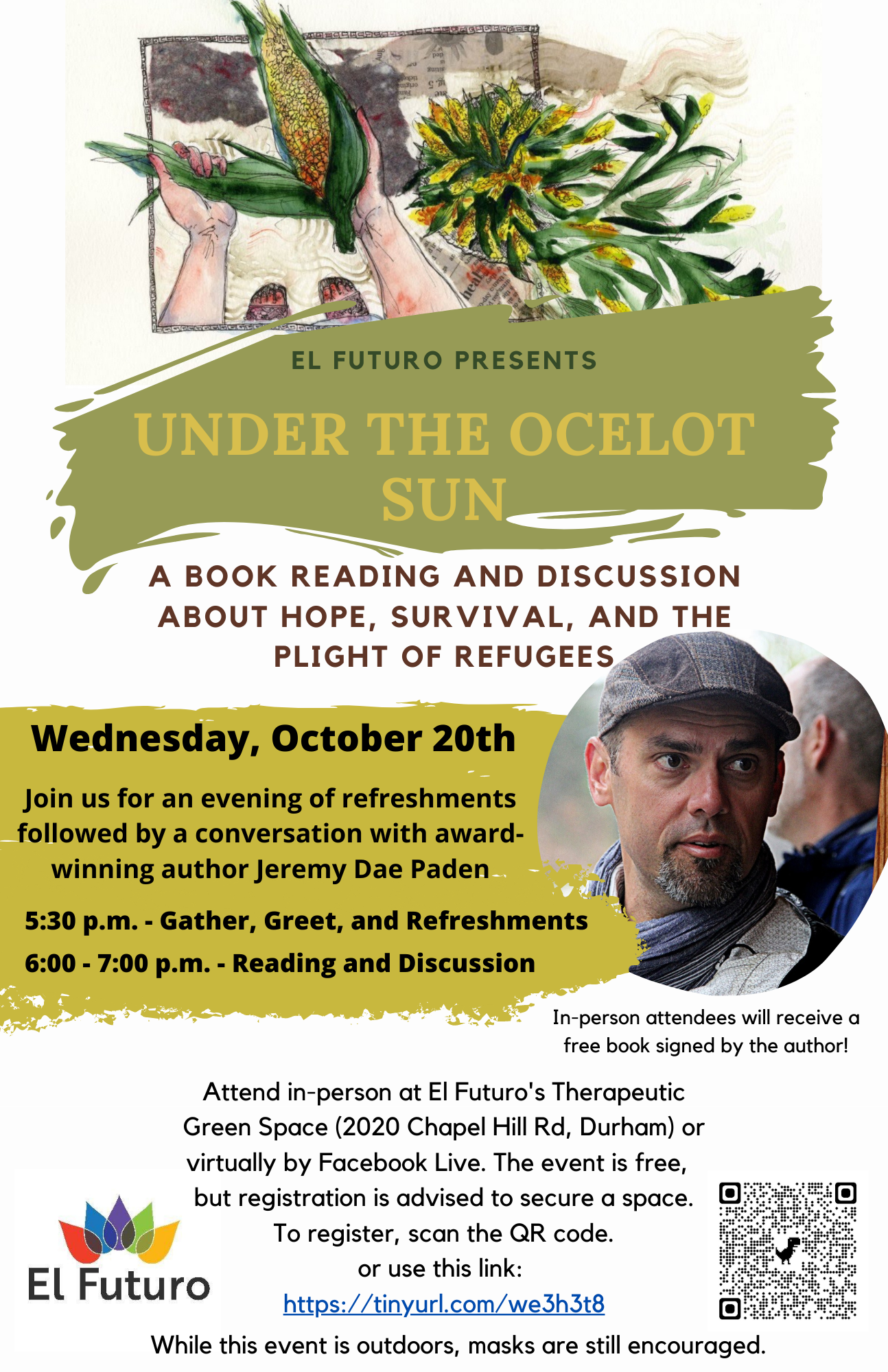 It was a magical fall evening in the beautiful therapeutic green space at El Futuro where more than 50 people gathered to meet author Jeremy Dae Paden for El Futuro's first book reading. Jeremy Dae Paden charmed us with his lyrical voice and effortless banter as he read Under the Ocelot Sun, easily transitioning between English and Spanish. 
Written in response to the 2018 migrant caravan and current US border politics, the story, told in the voice of a mother to her daughter, recounts the reasons they escaped Honduras to embark on a perilous journey to the United States.
Jeremy's emotional narrative celebrates Mesoamerican culture and resilience while the lavish illustrations by Annelisa Hermosilla, a Panamanian artist who resides in Virginia, help bring the story of hope and survival to life. The story kindled compassion within us "for all those who dream of a better life in a new land." 
We loved gathering with our comunidad in person (and virtually) for our first book reading event. Stay tuned for information on additional book readings with relevant topics.
About the Author
Jeremy Paden (Milán, Italia, 1974) is an American raised in Nicaragua, Costa Rica and the Dominican Republic. He has a PhD in Latin American Colonial Literature from Emory (2004). And the author of several collections of poems. Among his books are ruina montium (Broadstone Press, 2016, en inglés; Valparaíso Ediciones, 2018, en español), a collection of poems on the Chilean mining collapse of 2010, prison recipes (Broadstone Press, 2018), a collection of poems on the period state sponsored violence in Argentina in the late 70s, world as sacred burning heart (3: A Taos Press, 2020), a collection of poems based on the first century of the Spanish colonization of the Americas, and Autorretrato como una iguana (Valaparíso USA, 2021) named co-winner of the Premio Poeta en Nueva York 2019.