We were invited to the visit of Vice President Kamala Harris at the Duke Energy Center for the Performing Arts in Raleigh where she spoke about the importance of Hispanic businesses in the country and their impact on society. It is an honor to sit next to our Latino Credit Union partners to continue supporting the mental health of Latinos and on this time, we were able to witness the impact that has been taking place in our community thanks to the support of the Biden administration.
"They are civic leaders, they are role models, they are the one who sponsors the local softvoley they are the ones who see the kids in the community growing up and will mentor them or give them feedback and advise, they are the ones who will ask 'How is your day?' 'Why are you looking a little down today?, let me put some food in you, that I know you like to eat' … that is how we feel about them, how we experience them, and small businesses employ half of America's workforce. We understand the importance of lifting up community". – VP Kamala Harris
"At El Futuro we are proud to support Latino small business owners, and their employees. We know that our community comes to this country with many dreams and hopes, we see their strengths, and we feel their resilience, despite the many obstacles they face each day. We want to do everything we can, when mental health becomes an issue for them, so they can get back on their feet and continue working for those dreams that brought them here. We are very proud of our Latino community and their leaders. Today, we feel hopeful for a better future, and we feel thankful for the efforts that the Biden-Harris Administration, and the Latino Community Credit Union are doing, to help our comunidad prosper. We feel especially proud of our Latino Business owners, who are making a difference in our economy, and the wellbeing of our country" – Mary Jones, Community Engagement Manager at El Futuro.
During the presentation, some of the people that spoke in support of the small business owners were Representative Deborah Ross, Representative Wiley Nickel, Governor Roy Cooper; Vicky Garcia, LCCU Senior Vice President; SBA Administrator, Isabella Casillas Guzman and Vice President, Kamala Harris. We also have the pleasure to share the room with many Latino non-profit leaders, Local government representatives and black and Latino business owners.
"Our Hispanic/Latino Business owners do so much for our community all across North Carolina" – Governor Roy Cooper
Thanks to our partner Latino Credit Union for extending such a wonderful invitation and we are sure that we will continue to support the growth of local Latino businesses and the mental health of the latino community in order to see a better future.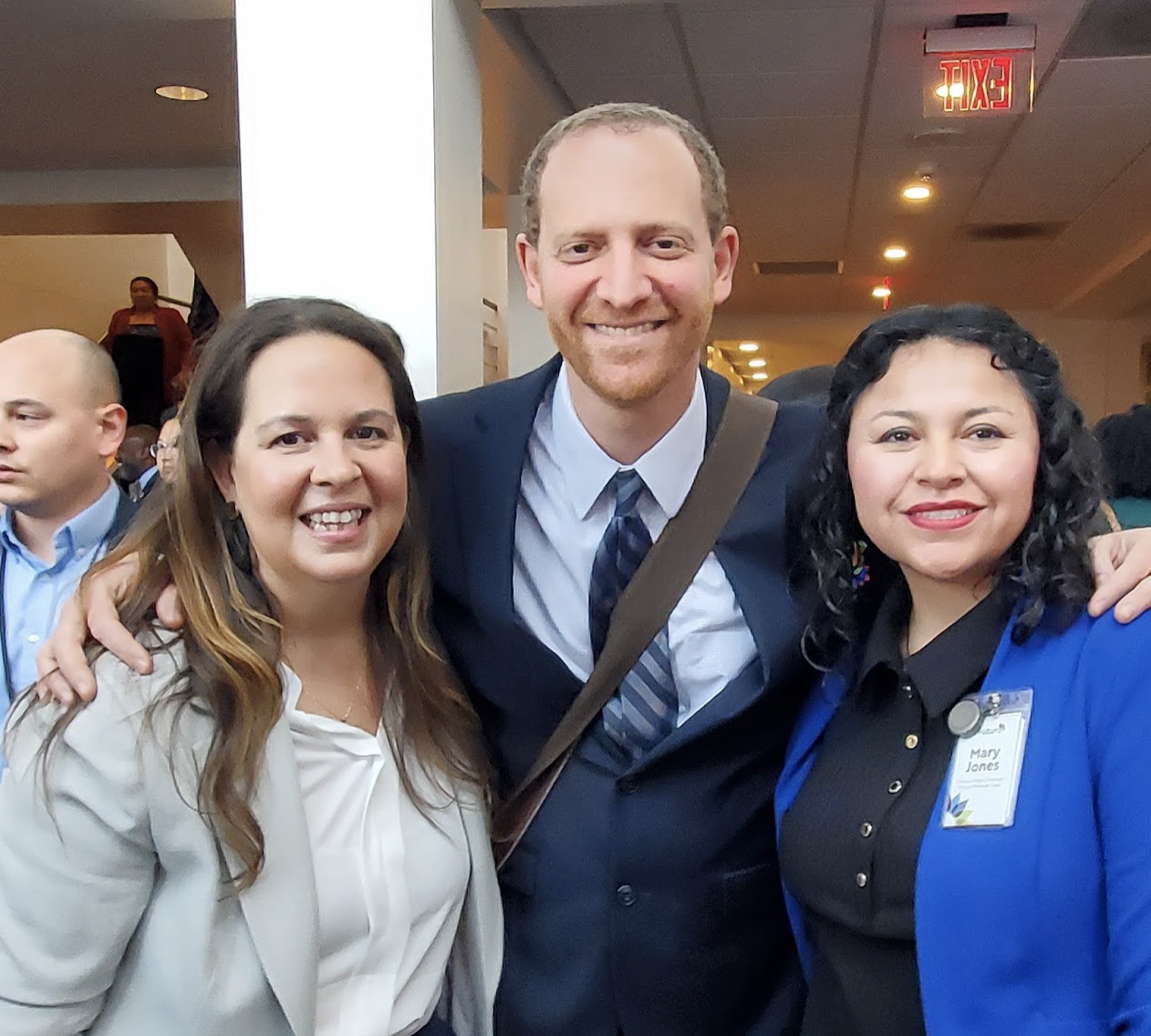 Starting from the left, Marla Bilonick, NALCAB's President & CEO. Gabriel Treves-Kagan, Senior Director of Investor Relations in Latino Community Credit Union and Mary Jones Community Engagement Manager at El Futuro
Mary Jones next to the Durham City Council Member, Javiera Caballero
President Joe Biden appointed Marla to lead the US Department of Treasury's CDFI Fund Community Development Advisory Board; she is the first Latino and only the second female to hold this position in its 27-year history.