Upcoming Monthly Webinars
May 28 from 10AM – 11:30AM EST
Affirming Practices for Working with LGBTQ+ Community Members
Part of our April-June webinar series, 'Enfrentando Barreras' — Addressing Intersectional Disparities in Latinx Mental Health Practice

Description:
This 90-minute workshop will focus on LGBTQIA2S+ affirming policies, practices and resources for the Latinx community. The exploration of myths and realities with LGBTQIA2S+ clients, mental health impact of the Latinx community, risk factors, and recommended therapeutic approaches will be discussed. The workshop is structured by education, examples, and cultural humility.
Learning Objectives:
Participants will be able to:
Participants will learn a basic understanding of language for talking about gender and sexual minorities within the Latinx community.
Participants will learn to challenge narratives created by white supremacy that do not serve the LGBTQIA2S+ Latinx community.
Participants will be given resources that can be used by both the everyday person and mental health providers serving the Latinx community.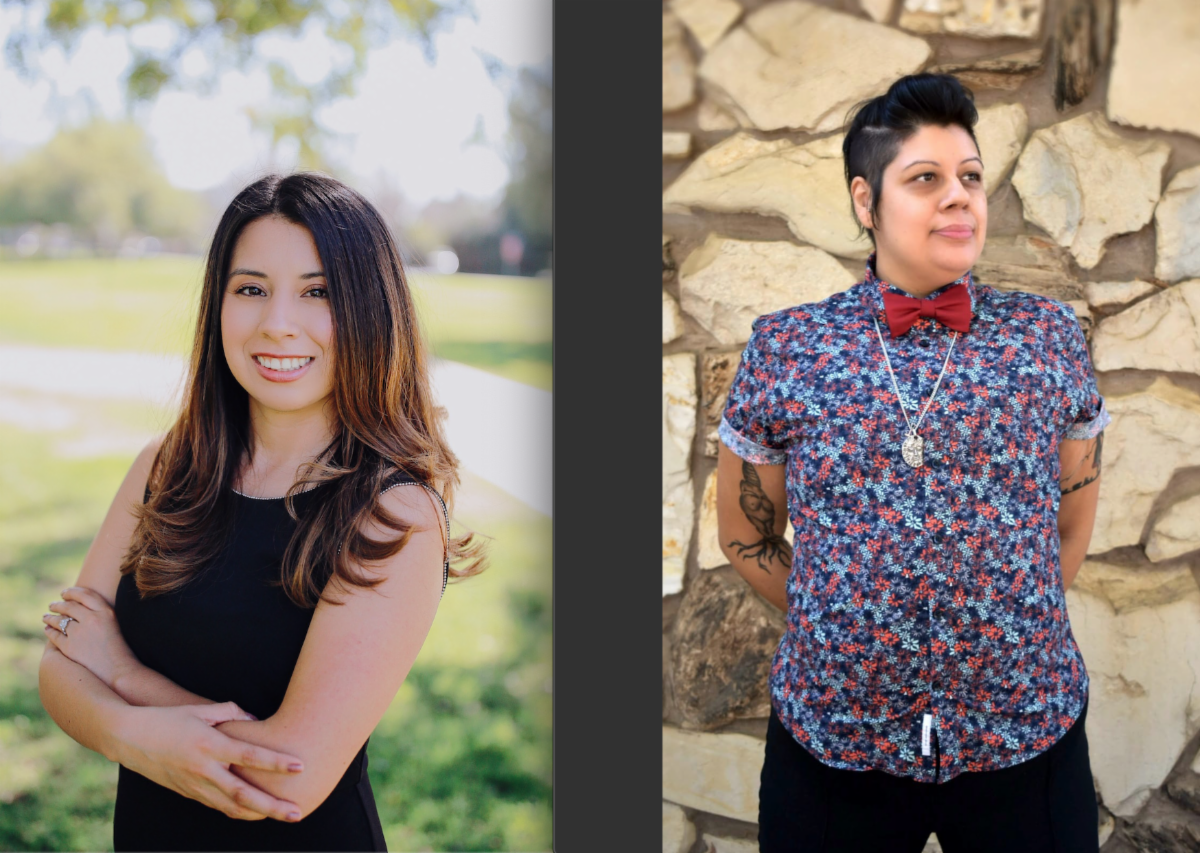 Presenters:
Adriana Alejandre is a Trauma Psychotherapist and Speaker from Los Angeles, California. She specializes in adults who struggle with PTSD and severe traumas at her own private practice. She has done disaster relief work for Hurricane Harvey and the Las Vegas shooting survivors. Adriana's expertise has been featured in LA Times, Telemundo, USA Today, the New York Times and Buzzfeed, among many others.
Adriana is the founder of Latinx Therapy, a national directory of Latinx Therapists and global, bilingual podcast that provides education to combat the stigma of mental health on the ground, and in the digital spaces. In 2019, she won Hispanizice's TECLA award for Best Social Good Content award, and in 2020 she was one of 5 Latinx influencers chosen for the #YoSoy Instagram and Hispanic Heritage Foundation award. Adriana's mission is to create spaces to spark dialogue about mental health struggles and strengths in the Latinx community.
Ariana (they/them/their) identifies as a queer, nonbinary, child of immigrant parents de Jalisco y Tijuana. Ariana is first generation, bilingue, y was raised in the emotional and physical borderlands of Mexicanidad y los Estados Unidos. In 2019, Ariana became a certified yoga instructor and founded POC meets Rainbow, a movement that centers the wellbeing of QT/BIPOCs in the yoga and meditation wellness world. Ariana also holds a Master's Degree in Couple and Family Therapy from Alliant International University, California School of Professional Psychology, including certification in LGBT Human Services and Mental Health. Ariana is a psychotherapist in California. #LMFT110793| www.arianalozano.com | IG: poc_meets_rainbow
Registration:
New registration process!
Register for this webinar through Greensboro AHEC via the button below. You will be sent a link to register with Zoom to receive the join link from lamesita@elfuturo-nc.org in the week before the webinar. Registration for this webinar closes the day before at noon: Thursday, May 27 at 12PM EST.
Webinar pricing going forward:
All La Mesita webinars unless otherwise denoted will cost the following:
$30 Regular Price
$25 La Mesita Member Price
$15 Student Price
Looking for a registration discount code?
Are you a La Mesita Network member or student looking for your discount code to register for this webinar? 
Check out the post on the network!
Are you an El Futuro staff member looking for your code? Email lamesita@elfuturo-nc.org
Apply for a webinar scholarship!
We will be offering scholarships for three providers to attend one quarter (4 sessions) of La Mesita webinars for free! Applications for the April – July scholarship are now closed but you can apply to the August-December scholarship below!
Credits:
This webinar will provide Contact Hours, CEUs (Continuing Education Units), AMA PRA Category 1 Credit and Contact Hours (category A) CE for NC Psychologists for participants that view the whole webinar (not call-in only) and complete the post-webinar feedback survey.  No partial credit offered.
This program does not offer NBCC credits. However, per LCMHC guidelines, LCMHCs licensed in North Carolina may submit up to 15.0 contact hours of continuing education credit per renewal period, through attending programs by affiliates of the National Area Health Education Center Organization (NAO).
Participants should confirm continuing education credit information for licensure requirements with their state licensing board(s). If you need any additional information about this webinar for your licensure, please reach out to Megan Robertson at mrobertson@elfuturo-nc.org.
Upcoming La Mesita webinars:
 June 25, 2021; 10-11:30AM: Hope, Possibilities, and Strengths: Anticolonial Healing Approaches for Latinxs
Presented by Hector Adames, PsyD and Nayeli Chavez-Dueñas, PhD
Cancellation Policy:
In the event of a cancellation, we will provide notification as soon as possible so participants can adjust their schedule accordingly. Participants that need to cancel may choose to do so at anytime but will not receive a Certificate of Completion.
Accommodations
Please reach out to Megan Robertson at mrobertson@elfuturo-nc.org to let us know if you need accommodations at least 2 weeks prior to this event. We will work to the best of our abilities to fulfill all accommodation requests. 
The fine print:
Please contact Megan Robertson at mrobertson@elfuturo-nc.org if you have a concern or complaint you'd like to share regarding La Mesita. While we do not promise any outcomes, the individual will receive a response with the teams' considerations and decision within two weeks time.
Please keep patient information de-identified at all times during the webinars.




Thank you to The Duke Endowment, Blue Cross and Blue Shield of North Carolina, the Kate B. Reynolds Charitable Trust, North Carolina Area Health Education Centers (NC AHEC), and the Duke University Health System for their support of La Mesita: Latinx Mental Health Professional Network.