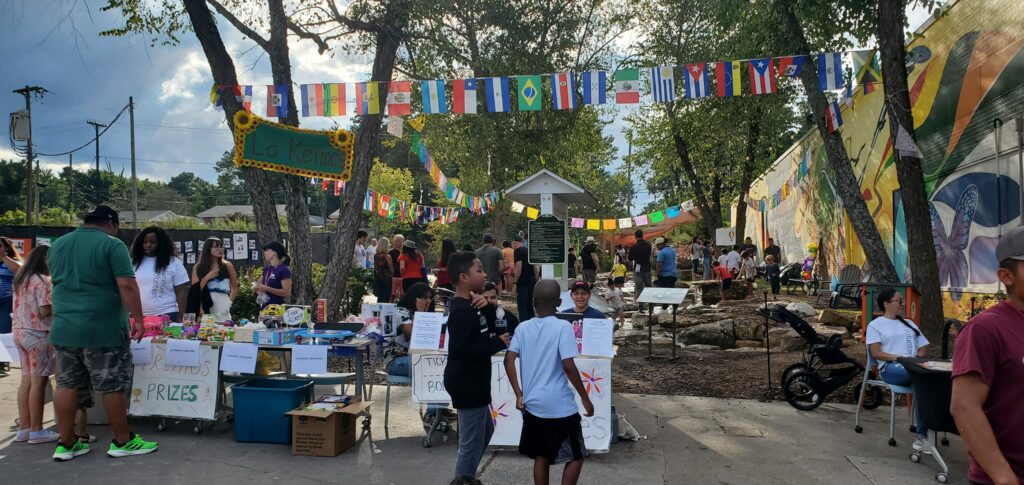 Kermes is a Latin American heritage celebration, a traditional carnival-like fiesta, and this month, our Kermes was our best one yet. La Kermes brings as much joy to the people who organize it as the people attending it. With mouthwatering traditional foods such as Colombian arepas, Salvadoran pupusas, Oaxacan tlayudas, and Mexican champurrado, everybody left satisfied with their stomachs and hearts full. If there is no music, it is not a Latino party. The music from different Latin American cultures roused everyone to the dance floor, and the raffles and games, such as the Loteria, brought smiles and laughter to the ambiance. The richness of different Latin American cultures gathering together brought happiness, healing, and a sense of belonging by reconnecting to one's heritage and raices, roots. The people are what made our Kermes so unforgettable. Listening to Salvadorans proudly sing the song Patria Querida in unison; you could hear the nostalgia and pride in their voices and their smiles reflecting the joy of belonging as they shared this moment with other Salvadorans. The people, vendors, volunteers, and guests awakened the vibrant expression of culture, allowing a collective celebration of homelands and native countries.
The event entertained people of all ages, including children dancing with their parents, and grandmothers sharing wisdom and blessings. Kids went up and down the stream, jumping from rock to rock, sweaty and happy, running around everywhere and playing the carnival games. Attendees took turns using the microphone to share their love and memories of their homelands. La Kermes has made special and unique moments between families and community members possible; Mary Sahonero, therapist at El Futuro, commented while she observed a father playing with his daughter in the creek, "If not here, then where?" Julia Sendor said, "There are a few special places that make me so thankful to live in this community – and El Futuro is one of them." With the games, there were also raffles and prizes; we raffled a 32-inch TV made possible by our generous vendors. Luke Smith, our Executive Director, expressed how all comes from the community and goes back to them!
Calor Humano, or human warmth, is a core value of El Futuro, which is what this Kermes embodied. At El Futuro, we practice Calor Humano by providing a space to feel heard and understood and creating a community where everyone is welcome and accepted and can gather together for a good time. Calor Humano was tangible in our Kermes this September; you could see and feel it through the numerous people dancing, wearing colorful, traditional clothing, laughing, enjoying themselves, and smiling everywhere. An attendee shared that she couldn't hold back her tears when the Colombian dancers started dancing Cumbia with La Tricolor in their dresses. Other attendees shared how they relived their childhood memories with each dance and how this Kermes felt like they were back home at El Mercado, the market.
El Futuro is all about mental health services for the Latino community; however, mental health extends beyond the clinic's walls and includes being part of a community, connecting to one's heritage, dancing, playing, laughing, and eating good food with good company. We host the event in the green and outside space of our clinic. El Futuro will continue with more Kermes fiestas to come, so make sure you join us for the next one. The event is free, and everybody is welcome. You can keep up to date with our upcoming events through our website or social media. There is strength in numbers; together, through community, we support each other, heal each other, and succeed in our mission to strengthen familias.
Article written by Candy Moreira BSN RN